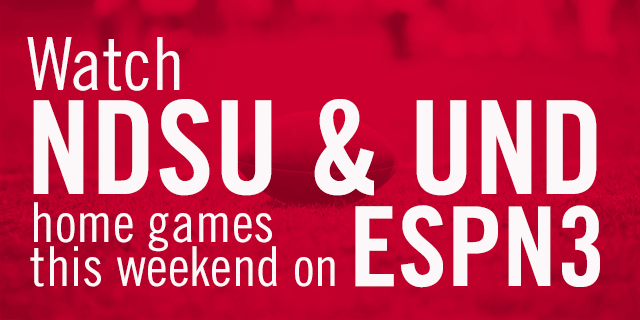 Good news, Bison and Fighting Hawks fans! Both NDSU and UND football home games are being shown this Saturday, April 24 on ESPN3. Not sure what ESPN3 is? It's a digital online-only network that streams thousands of live events and on-demand replays of past recent ESPN events. ESPN3 is available at no cost to our
TV
and/or
Internet
customers, as long as the customer abides by ESPN's methods of watching the events.
SRT has confirmed our TV and Internet customers can use a Windows PC, Mac, Roku, Amazon Fire Stick/Cube or AppleTV device to "tune" into ESPN3 events without being forced to choose a TV provider. If the customer uses an iOS device (e.g. iPhone), Android device, XBox One (unless the Edge browser is used) or PS4 it is likely that the customer will be routed to an ESPN app which typically require one to choose an TV provider.
"How can I watch an ESPN3 event?"
"
If you have already verified your TV provider, you will be able to navigate and watch all available content. If a lock icon appears next to your content, you will need to verify your account. Non-participating TV provider customers may have access to ESPN3 programming online at
https://www.espn.com/watch/
, as long as they subscribe to a participating high speed Internet service provider. Users accessing the URL above or the ESPN mobile app (Android or iOS) via an on-campus (.edu) or on-base (.mil) network receive complimentary access to ESPN3 content.
"
Now you're ready to catch all of the football action this weekend. Be sure to follow us on Facebook and Instagram for more tips like this and stay up to date on all things SRT!