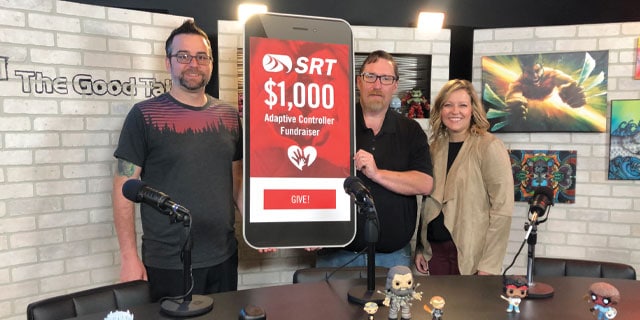 Thanks to an online fundraiser by Independence, Inc. and The Good Talk Network, enough funds were raised to provide the Minot Public Library with an adaptive gaming controller that is available for public use at the library. An adaptive gaming controller allows kids and adults of all abilities to be able to experience playing video games, perhaps for the first time ever. The adaptive controller is designed to pair with multiple accessories that can be customized to the needs of the gamer depending on their physical limitations. This inclusive customization means each gamer can have the best gaming experience possible.
SRT pledged to match donations up to $1,000 once Independence, Inc. and The Good Talk Network met their original goal. It didn't take long for people to respond to the online fundraiser, as the initial goal of $1,000 was met in just under two weeks. The fundraiser organizers were so grateful and inspired by the community's response.
"Gaming is something everyone should be able to experience and has been denied to those with disabilities for too long. Scott Burlingame [Executive Director at Independence, Inc.] and I saw this need in our community and knew we wanted to launch this online fundraiser.
It was fantastic to see the public response was extremely positive and supportive," said Jonah Lantto, Owner and Host of The Good Talk Network. "The Minot Public Library was the perfect choice because it would make it very accessible. With all the added accessories that may be required depending on an individual, these controllers can become costly. We wanted to make sure everyone who would like to try the adaptive controller would have that opportunity. "The adaptive gaming controller is now at the Minot Public Library and library staff are training in preparation of its public launch, which will be soon.
If you or someone you know would be interested in playing, make sure to follow Minot Public Library on social media for an official opening date or be on the lookout for any adaptive controller upcoming events!