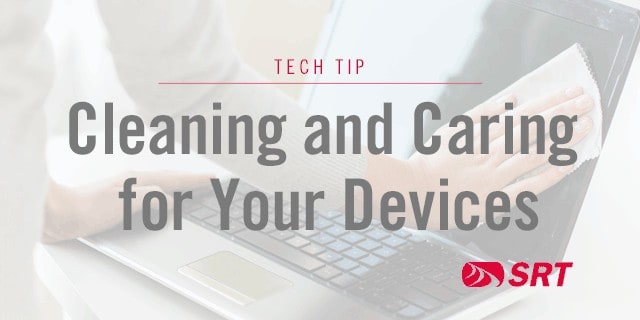 In a time of heightened awareness for germs, our phones, tablets, and laptops are often overlooked when cleaning and disinfecting. Screens are very dirty surfaces but require extra caution when cleaning. Do not use harsh chemicals like bleach when wiping your screen, but rather a damp cloth with mild soap. Special screen cleaning sprays and cloths are also good options for cleaning screens.
It's also good to periodically clean out your laptop battery, fan, and wireless router. These elements are great at collecting and trapping dust that can hinder performance over time. Opening the side panel or removing the battery and spraying with a can of compressed air will reduce the risk of the device overheating or malfunctioning.
While you have the can of compressed air out, spray a few puffs into your USB ports and in the grooves of the keyboard to ensure dust and debris aren't building up and limiting functions. Ports such as USB, headphone, and charging should never have cotton swabs inserted inside of them. The cotton end on a cotton swab can get stuck inside these small ports and cause damage to your device. If necessary, use a toothpick or something with a sharp end if you need to dislodge something inside one of these ports. Dust and lint building up in the charging port can sometimes prevent your phone from getting a good connection, resulting in poor battery life.
Some other general care and maintenance tips for your devices include using a carrying case for laptops and cell phones and reducing exposure to extreme temperatures for all device types. Thermal cycling is one major cause of premature hardware failure. Thus, reducing the number of times your device is exposed to extreme heat or cold will extend the life of your device. Further, if your device is left in extreme temperatures, it is best to allow it to slowly return to room temperature before powering on to reduce the effects of thermal cycling.