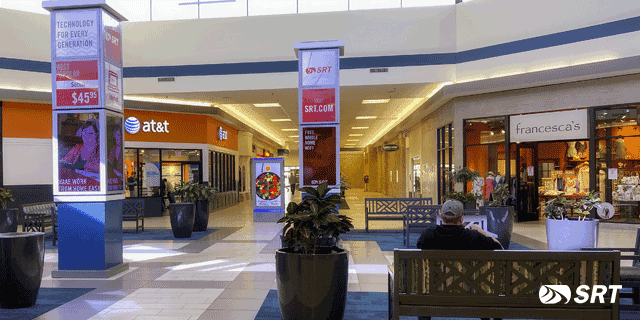 SRT has long recognized the value of access to the Internet, and it became even more evident in 2020 due to the pandemic. While many were forced to turn to online shopping, the importance of shopping local is more important than ever. Therefore, SRT found it to be an easy match when Dakota Square Mall asked to continue a Wi-Fi partnership. Not only are many local businesses housed in this anchor institution, but added Wi-Fi to the mall experience was a win-win.
As part of the Wi-Fi partnership, mall goers can access Gig Internet for free in the main corridors at the mall. While the system was not designed to provide service into each retail store, the Wi-Fi signal spans throughout the facility.
Additionally, SRT is pulling fiber optic cable throughout the mall so each store has access to their own secure internet. The value of a retail store having their own secure, dedicated internet protects that company, but also adds to consumer safety.
SRT is proud to provide free community Wi-Fi at Dakota Square Mall and throughout our service area including places such as the MAYSA Arena, Mouse River Park, and the State Fair Center.
Follow us on Facebook and Instagram for more tips like this and stay up to date on all things SRT.