Having Trouble with the New SRT EMail?
We apologize for the inconvenience that the transition to the new SRT email may be causing. We encourage you to contact the 24/7 SRT Internet Help Desk at 701-858-7873 or SRT.com/chat for personal help from a local technician.
The Internet Help Desk is experiencing increased call volume, but will return your call in order.  In the mean time you can also try a few of these troubleshooting tips.
Please try logging into https://webmail.srt.com and update your bookmark or favorites.
Once logged in, the new email system will load your saved email, folders contacts.  Depending on how much you have saved, this process could take a few minutes.  To update your message list and see progress, click the inbox folder or log out and log back in again.  See below.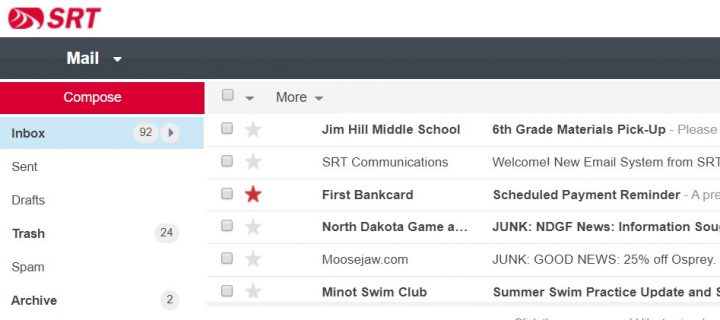 Your minot.com email address will still work on the new system, but you may need to update your email client's server settings.​  See Server Settings below.
Do you have the supported server settings in your email client? Below are the addresses and ports of the email system.  
Please know that if you have selected SSL, you must use an SSL supporting port.
Incoming POP3 Server: pop3.srt.com

POP3 Port: 995 (SSL)
POP3 Port: 110 (do not select SSL, TLS or Secure Settings when using this port)

or Incoming IMAP4 Server: imap.srt.com – preferred incoming server when using multiple devices to check email

IMAP4 Port: 993 (SSL) – default and preferred port
IMAP4 Port: 143 (do not select SSL, TLS or Secure Settings when using this port)

Outgoing SMTP Server: smtp.srt.com

SMTP Port: 465 (SSL)
SMTP Port: 25 or 587 (do not select SSL, TLS or Secure Settings when using this port)
If you are reading a message, deleting it is a simple click on the pictured trash can.  Webmail offers several ways to delete a message without reading the message.  If you are looking to delete a message without reading it, there are several ways.
1. You can drag your message to the Trash folder or…
2. Right-click an choose Delete from the options menu or…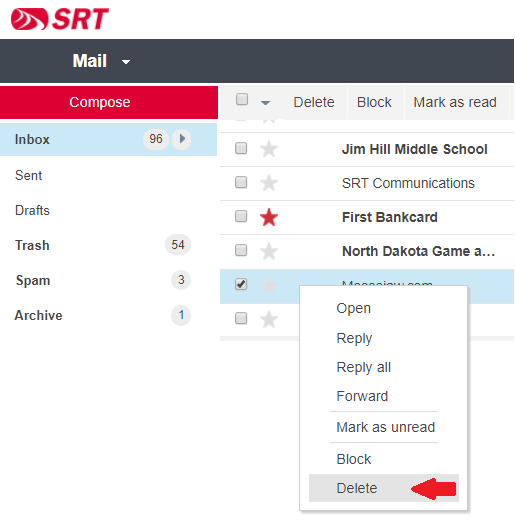 3. Check-off the message and click Delete from the menu bar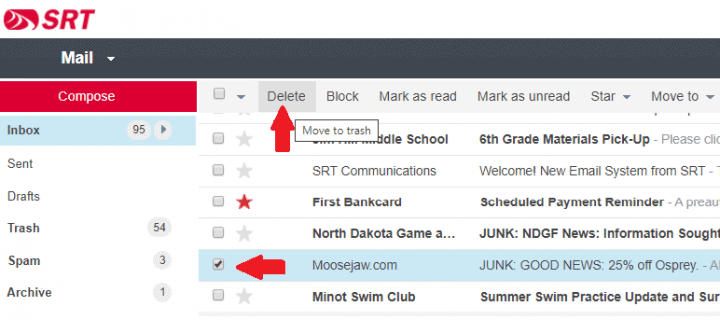 Webmail is designed for a larger screen and an app was developed as an alternative to Webmail or the mobile devices native email client.  However, there is a way to view Webmail on a mobile device, even if it's only to get your account "synced" up.
Start by opening your mobile device browser.
Navigate to https://webmail.srt.com where you will see the suggestion to download the SRT Email app.
Tap the Aa in the browsers address window
In the menu that appears, tap Request Desktop Website
The new Webmail login should load for you to continue
Please consider downloading the app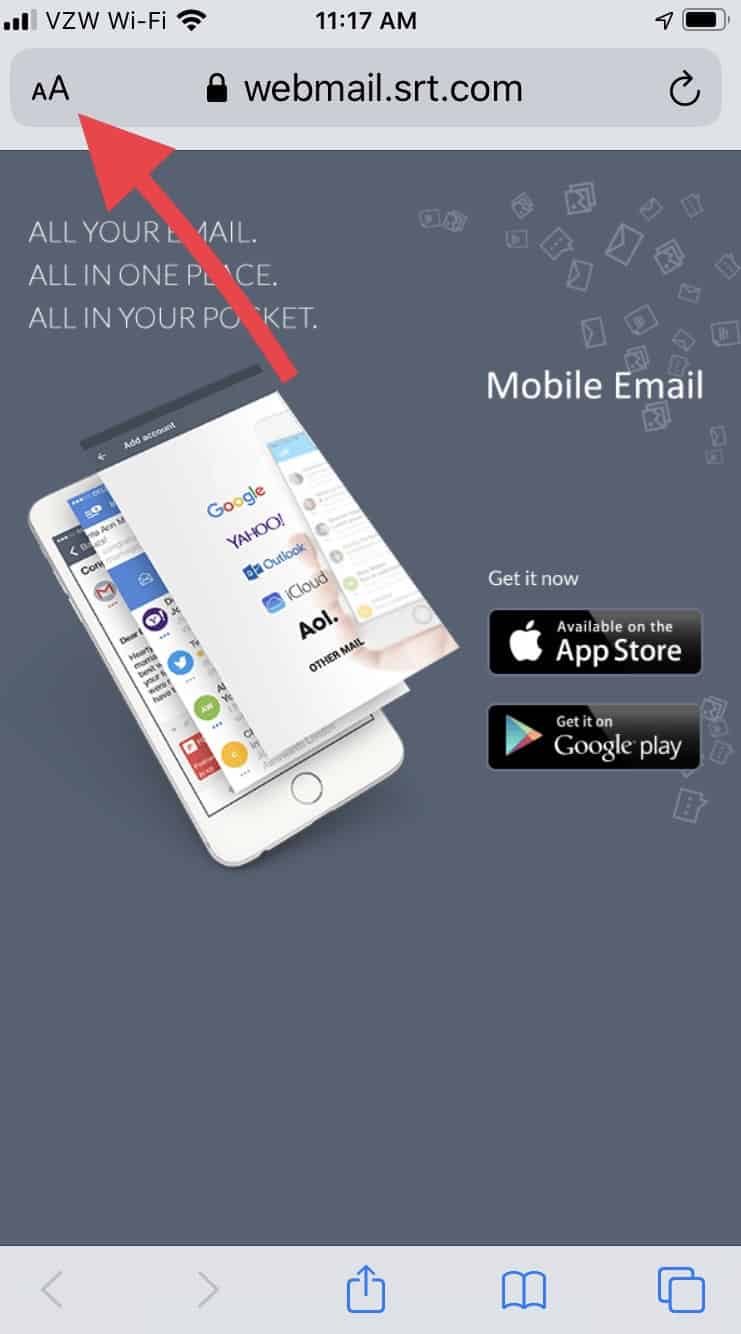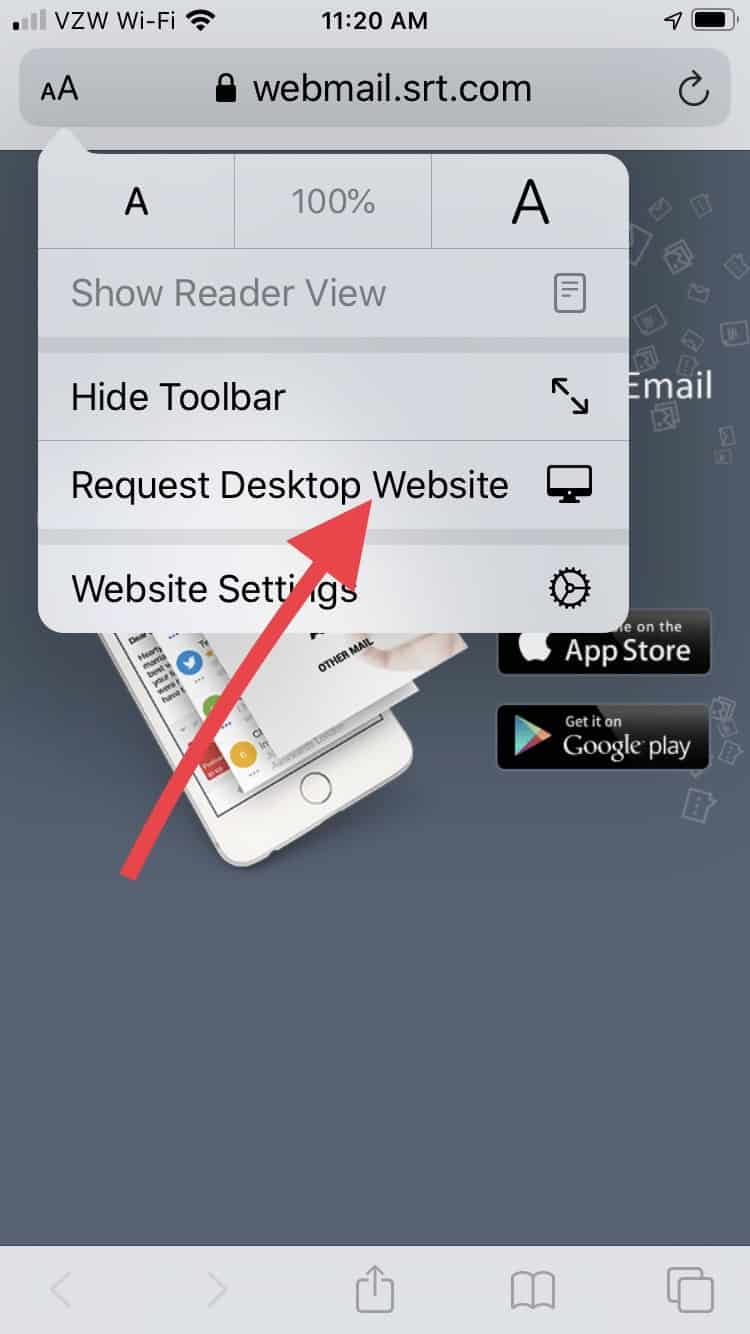 A noticeable change with the new system is where Junk Email or Spam is placed.   By default, a Spam folder exists for every email account.  Any junk email or spam, is moved to that Spam folder rather than your inbox.  The Spam folder is self-cleaning.  Once a message has been in the Spam folder for over seven days, it is deleted.
If your email client isn't set up to display the Spam folder, you can find it in Webmail at https://webmail.srt.com.  
The new system does not send out a Daily (or Weekly) Digest of junk email.  Junk email and spam are shifted over to a Spam folder.  The system that produced the Daily Digests will be available through mid-August, 2020.  If you are looking for an older message that may have been flagged as junk or spam, visit https://edgewave.srt.com to look through old junk email which will be available until the end of August 2020.