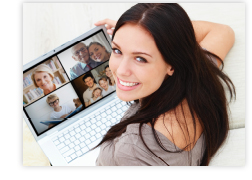 Upload Speed is Important to Video Call Quality
When you're on a video call – whether via Zoom, Skype, or another app – each participant's internet connection plays a role in the quality of that experience. In particular, a too-slow upload speed can cause delays, awkward frozen screens, and broken audio.
If other participants in a video call say, "You're breaking up," or "I can't hear you," you may be able to quickly solve the issue by turning off your video or switching to a wired connection. Moving forward, however, you'll want to consider signing up for the next-higher internet tier, which will likely increase both your download and upload speeds. Contact us for details.