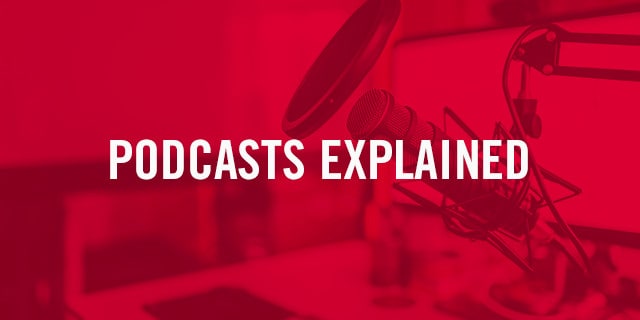 WHY YOU SHOULD ADD PODCAST LISTENING TO YOUR ROUTINE
If you have ever used a music streaming service, chances are you have seen or heard the word "podcast." What is a podcast, exactly? A podcast is an audio recording on a specific topic or range of topics. It is a similar format to talk radio, but podcasts are pre-recorded and available on-demand, so you can listen to them anytime.
Podcasting as we know it today began in 2004, when the Apple iPod and other portable audio listening devices became popular in households. They have undoubtedly grown in popularity in the past few years. According to Statista.com, 57% of the United States population over the age of 12 listened to at least one podcast in 2021. This is a significant increase from the 11% of Americans who were familiar with podcasts in 2006.
If you are interested in giving podcast listening a try, there are many ways to listen, most of which are available free-of-charge. You can listen through podcast websites on your computer, laptop, or mobile device. However, the more common method is listening to podcasts through an app. For example, if you own an iPhone, it automatically comes with an app called "Podcasts." Other popular podcast listening apps for iPhone and Android users include Spotify, Pandora, and iHeartRadio.
As you get accustomed to listening to podcasts, there are even more robust apps available, such as Pocket Casts. This powerful app has features you can tailor for an even more customized podcast listening experience. Pocket Casts takes podcast listening a step further by syncing podcast playback with all your devices so you can listen where you left off, which is especially helpful if you use different devices throughout the day. It can also help you save storage space on your device by automatically deleting old podcasts. No matter which app you use, you can subscribe to your favorite podcasts and even download episodes directly to your device to save on cell phone data.
EMPLOYEE PODCAST PICKS
People create podcasts on many topics, ranging from current events to various hobbies like movies, TV shows, and sports. See what our employees have to say about their favorite podcasts:





Ask Noah – "Old school approach…People call his 1-800 number and ask tech/IT related questions. Also cool that it's Grand Forks based." -Justin, Central Office Technician
The Bible in a Year – "Midwest based…Really interesting and keeps my reading on track." -Tom, Product Manager
Security Now – "Up-to-date cybersecurity news…Great job explaining security vulnerabilities." -Nathan, IT Security Engineer
Midwest Murder – "Locally recorded…Good production value…Really interesting stories."
-Chris, Account Executive
Accidental Tech Podcast – "Mainly Apple programming focused…Great 'nerd talk'…Interesting tangents that make it fun to listen." -Dan, Combination Technician
LOCAL PODCASTER EXPANDS NETWORK TO LIVE SHOWS

An intriguing element about podcasting is they can easily be recorded anywhere. Some of our employees suggested podcasts recorded in the Midwest, even right in Minot! One Minot-based podcast in particular, The Good Talk, began in 2016 in the basement of its founder, Jonah Lantto. This podcast has since grown and branched off into related projects, including short films, over 15 sold-out, late-night comedy shows known as Good Night Live, and another new and successful podcast called Midwest Murder. "This just started as a hobby at first, then actually turned into my full-time job," said Lantto.
When Lantto started podcasting in 2016, Spotify didn't offer podcasts; now it is one of the most popular podcast listening apps. He credits the increasing popularity of podcasts with their accessibility. You can stream or download them anytime once they are published, since they do not air live, like talk radio or TV shows.
With their growing popularity, it looks like podcasts are here to stay. Maybe you have a road trip coming up, or just want something new to listen to during your daily work commute. Download a podcast app, search for your favorite topics, hit play, and you'll be a podcast expert in no time!