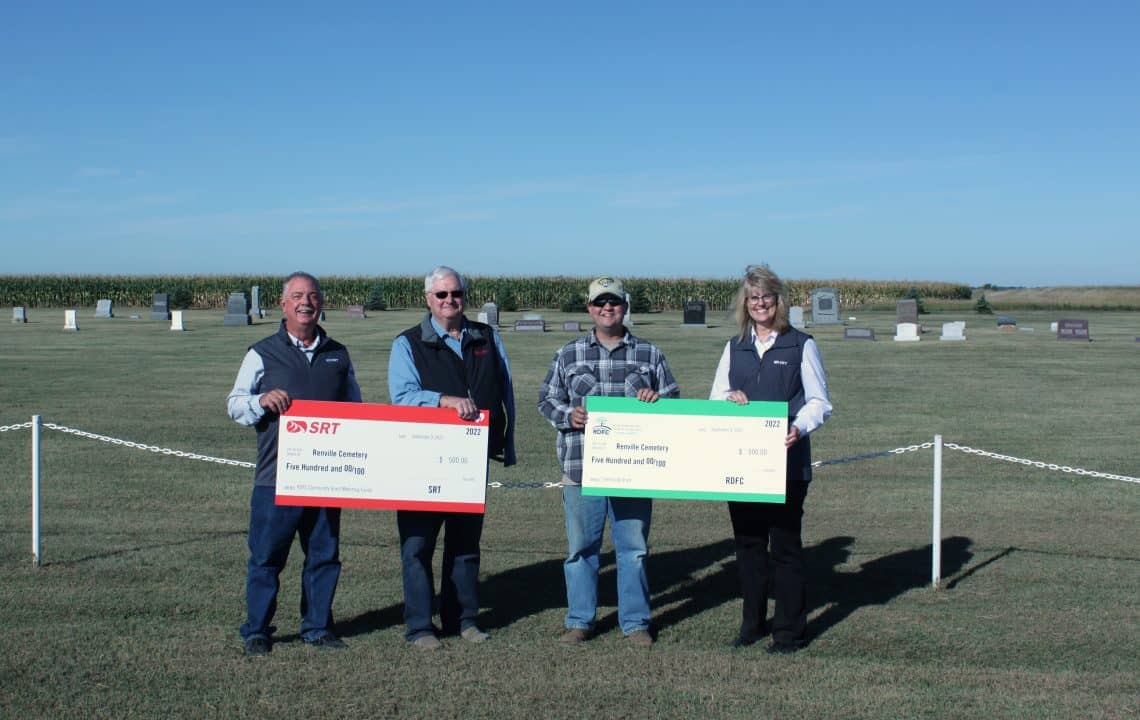 MINOT, N.D. – Renville Cemetery recently unveiled newly planted trees and other improvements partially funded by an RDFC grant matched by SRT Communications.
In 2021 RDFC awarded a $500 grant to Renville Cemetery, which SRT matched with an additional $500 donation. The cemetery used the funds to plant rows of spruce trees along the adjacent farmland and replace the white chain fencing around the cemetery borders.
The Mohall community also helped in the fundraising for this project, which speaks to the local support of the cemetery. The result is an idyllic resting place amid corn and wheat fields for the farming families who have been in Renville Cemetery since 1902.
Jay Rice, the sexton for the Renville Cemetery, had a hand in the tree planting and chain replacement to beautify the space. Rice volunteers his time to maintain the grounds, ensuring it's mowed and looking tidy. For decades, area residents have assumed the responsibility of upkeep and in recent years Rice took on the work. "We like the history and legacy here," he said. "We're happy to keep it up."
SRT is among the North Dakota rural telecommunication and electric cooperatives that are members of the Rural Development Finance Corporation (RDFC). The RDFC is a nonprofit finance and development corporation that provides funding for economic development and diversification projects in rural North Dakota. Applications are submitted to the RDFC. If approved, funds are matched 100% by SRT.
"Matching RDFC grant funding is one way SRT shows its support to help communities thrive," said Kristi Miller, SRT Board President.
SRT Communications, headquartered in Minot, North Dakota, is the state's largest telecommunications cooperative. Established in 1951, SRT employs nearly 190 people and serves more than 48,000 customers across north central North Dakota. SRT is committed to bringing the benefits of fiber to rural and urban communities alike and earned the distinction as a Certified Gig-Capable Provider in 2017. Services include internet, phone, and security/surveillance systems for home and business.
The Rural Development Finance Corporation (RDFC) is a nonprofit corporation that encourages economic diversification and community vitality through the generation of funding that supports sustainable asset building. Funding for RDFC programs comes from fee income generated by Dakotas America LLC, a community development entity providing New Market Tax Credits in economically distressed census tracks across the United States. The North Dakota Association of Rural Electric Cooperatives provides support to RDFC.