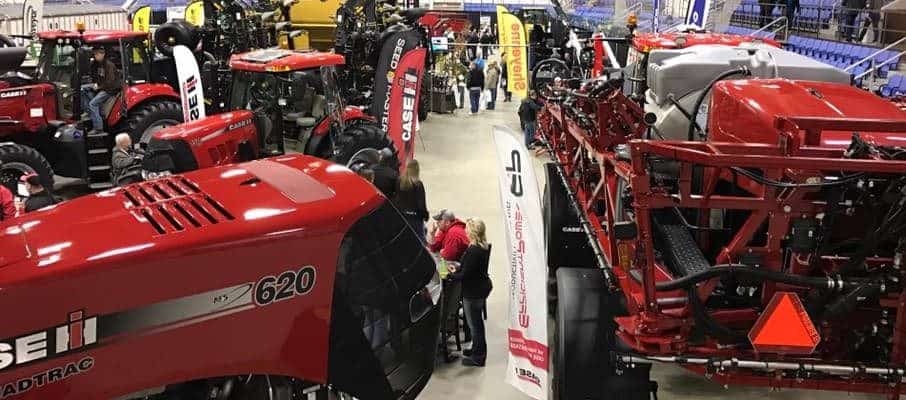 We were excited to visit with area farmers and agriculture industry professionals at the KMOT Ag Expo and learn more about how they are utilizing technology in their operations.
When it comes to agriculture technology uses, farming has come leaps and bounds due to the significant increases in technology the past two decades. Twenty years ago, the operation of farm equipment was entirely the responsibility of the farmer sitting in the cab. Today, while there are still operators in the driver's seat, the experience can be almost entirely automated through artificial intelligence, taking the pressure of driving and steering off the farmer, shifting their focus to the quality of their yield and fields.
Each year, SRT has a booth at the KMOT Ag Expo to showcase our fiber internet and how farms and ranches can connect to the world through high speed internet, as well as show how surveillance cameras can assist with farming and ranching. While SRT provides the backbone for connectivity, it's the advances in the machinery, data, and equipment that are the star in today's agricultural world. Jim Campbell of Gooseneck Implement stated, "There was a time when there was just farming, then there was precision agriculture, now it is back to farming. There is no longer non-precision farming, it's all just farming."
According to Campbell, two decades ago farmers focused on managing their farm. A decade ago, farmers focused on managing specific fields, with advances in technology allowing them to narrow data and information to improve each field. Today, farmers can focus on managing specific plants because of their access to real-time data, technology advancements, and precision agriculture.
Data collection and analysis is one of the largest advancements in farming that has allowed the industry to turn a corner in efficiency and effectiveness. Internet connections play a key role in this and Katie Wirt, Customer Success Manager at Farmers Edge, talked about how her job has been made easier. Wirt described the process of uploading, collecting and analyzing data for farmers and how that impacts the success of yields. Katie's job is to ensure that her customers are getting all the information about what is working, what is not working, and how crops are responding to changes in conditions to allow them the opportunity to fix issues that they otherwise may not have known were happening until it was too late. This is done through satellite imagery and drone usage, allowing the farmers to see and analyze the data, sometimes without having to set foot in the field.
"You need as much data as you can get to be as efficient as possible", said Charlie Adams, of Hefty Seed Company. Access to the data allows people like Adams to make suggestions, adjustments, and improvements to the products they offer to increase and improve yields.
Adams is embracing each update to technology in the farming industry because he acknowledges the positive impact it makes on output and efficiency, which is what he wants for each farmer that he does business with. As he put it, "If it doesn't work for the farmer, it doesn't work for us."
The potential for technology in farming is endless. We now see programs that allow farm managers to log in to equipment remotely to determine fuel needs and production levels. Other programs allow for fields to be virtually separated, permitting the user to determine the differences in yield from one spot to the next, and what factors may have impacted those differences. This enables farmers to see yellowing spots in their field or weeds that have caused problems and work quickly to find effective solutions. As recently as five years ago, this type of data collection was delayed hours, sometimes days, before results were available to the farmer.
After being a part of the farming industry for 36 years, Precision Farm Parts has seen significant changes in technology use. The increase of technology has allowed their team members, like Matt Ellingson, to make huge impacts on the efficiency and success for each farmer that comes through their door. The example Ellingson gave is if a farmer determines a piece of equipment is hindering the ability to yield the best crop on his/her machinery, Precision Farm Parts can step in. Ellingson and his team can create a new design model for the problematic part, print the necessary parts on their 3-D printer, and get the new parts manufactured.
"It is always a good feeling knowing the parts that we create work better (for the farmer)," Matt stated. They have worked with farmers here in North Dakota, as well as Australia, the United Kingdom, Canada, and more. Since all designs are completed in-house, they know for certain that what they have created will work and fits the individual needs for each specific farmer. The word "precision" in their title reflects their drive to create a perfect piece that fits the exact needs of the customer. Precision Farm Parts is committed to constantly updating, innovating, and keeping up with the trends to find new ways to make their customers as successful as possible.
As we look at the future of farming and the role technology plays, the experts we spoke with state that we can expect significant increases in the use of artificial intelligence and automation to increase output and efficiency, allowing for advances around the world. Whether you have been at it for a while and have been slower to adapt to new technologies, or if you like to stay on top of the ever-changing technological trends within the industry, technology will continue to shape the future of farming!