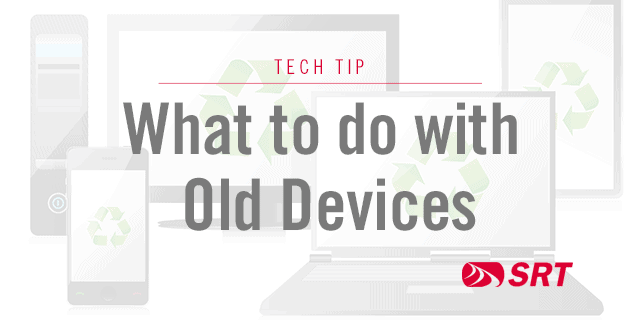 Technology is rapidly evolving and the desire to keep up with the latest tech trends is strong. But what should you do with your old devices? Here are a few options that are much more beneficial alternatives to simply tossing the device:
Recycle or trade-in: Best Buy is the nation's largest tech recycling retailer and offers a recycling and trade-in program. Their online trade-in calculator will let you know if your old device has residual value and offer credit for recycling it. If your device does not have a residual value, they will still accept it and recycle it properly. Not all Best Buy stores have recycling programs but do offer an online trade-in option.


Donate them: If you have a working cell phone or laptop that you are looking to donate, it is great to check with local shelters to see if someone could use it. Access to technology helps immensely with job searching, education, and communication with loved ones.


Return to the manufacturer: Some manufacturers of technology products offer buy-back and recycling programs for their items. Sony, Samsung, Dell, LG, and Xerox are all examples of companies who provide recycling programs for their products. A full list of companies and recycling locations is available at Electronics Donation and Recycling | US EPA.
When looking to recycle or donate old technology, always remember to wipe your device of any personal data. Factory resetting the device is also recommended.