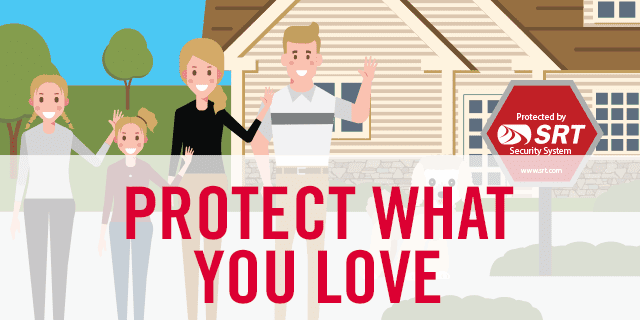 You've met the new neighbors and hung the basketball hoop in the driveway. The kids have picked their bedrooms (perhaps with a few fights along the way) and you've flipped through seemingly endless paint samples and carpet swatches. You've worked hard to build a home and a life that you love, and now it is finally time to sit back, relax, and enjoy it.
Moving into a new home is one of the most exciting moments in any family's life. But amidst all the milestones, it's easy to lose sight of one of the less enjoyable, yet most important decisions.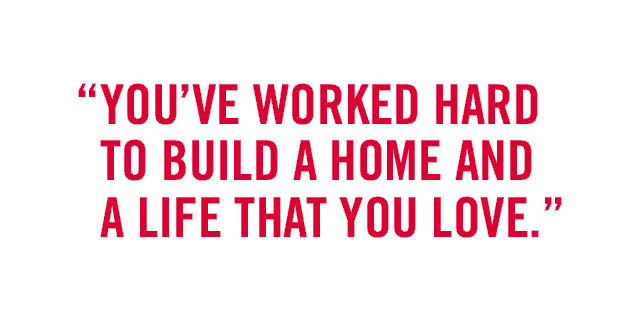 As a new homeowner, investing in a home security system should be one of the first items on your to-do list—because when it comes to protecting your loved ones, you can never be too careful.
Here are the top five ways that a security system from SRT can keep your home, family, and possessions safe:
1. Stop break-ins before they happen.
Of the estimated 2.5 million burglaries that are committed every year in the United States, more than half are home invasions. With a security system from SRT, if someone tries to break into your home, their movements will set off door and window sensors, glass break detectors, and motion detectors—scaring them off with a screeching alarm and dispatching the proper authorities to your home.
2. Never forget to lock up again.
Have you ever gotten halfway to work, only to wonder if you'd locked the door behind you? You don't want to leave your home wide open to intruders, but you don't have the time to turn around and double-check. With smart locks, you can ensure that your home is secure right from your phone.
3. Protect your family from fires and carbon monoxide.
Criminals aren't the only threat to home security. A complete security system can instantly alert you to the presence of smoke or carbon monoxide, giving you time to get yourself and your family to safety.
But what if no one is home to hear the alarm? Your detectors can be monitored 24/7, so even if you are away, firefighters can immediately be alerted and dispatched to your house.
4. Conserve energy and save money.
In addition to protecting your family from harm, a smart home security system can save you money on your energy bill. With smart home devices, you can turn off lights and adjust your thermostat while you're away, preventing you from wasting unnecessary energy when you're not home to enjoy it.
5. Monitor your home at any time, from anywhere.
Whether you want to check in on the dog, keep an eye on the kids, or just make sure that everything's where it should be, with surveillance cameras, you can monitor your home 24/7. With just the tap of an app, you can view live video, receive notifications, and access video clips on your smart device.
As a new homeowner, the last thing you need is one more box to check. That's why, at SRT, we make securing your home simple. All you need to do is complete a free security assessment to determine which products are right for you. From there, we'll take care of installation and maintenance, leaving you time to focus on all the fun parts of homeownership.
And because we are a local provider, if you run into any issues, simply give us a call and one of our technicians will be there right away to ensure your system is running smoothly.
If you're on the fence about investing in a home security system, remember: you can't put a price on protecting what—and who—you love. Call SRT at 701.852.8888 to find a package that's right for your family.