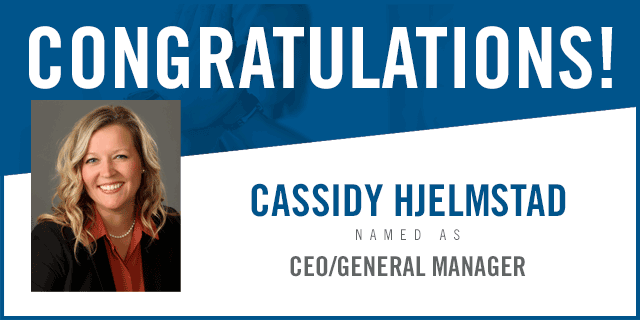 MINOT, ND – The SRT Communications, Inc. Board of Directors announced today that Cassidy Hjelmstad has been named Chief Executive Officer/General Manager of SRT effective January 1, 2022. She succeeds Steve Lysne who will retire December 31, 2021, after 27 years with the cooperative.
"The board and I are confident in Cassidy's ability to guide this company in the years ahead," said Board President Allan Engh. "The decision was carefully considered, and we were fortunate to have such qualified candidates. We look forward to her leadership, which will include completion of the fiber optic network build that delivers state of the art communication services to our members."
Hjelmstad stated, "My family and I are humbled to serve this organization and continue SRT's mission to meet and exceed the needs of our customers. I am grateful to the board of directors for their trust in me and for the management team and employees who have built the strong foundation we currently have. This is an exciting industry and I look forward to furthering the cooperative's mission."
Hjelmstad serves as the Chief Marketing Officer, leading the corporate communications, customer service and billing departments. She has led her teams to implement effective strategies for product sales growth while delivering exceptional customer experience.
Hjelmstad becomes the fifth Chief Executive Officer/General Manager in SRT's 70-year history. Originally from Newburg, Hjelmstad, and her husband, Travis, have three children and live in Minot.
SRT Communications located in Minot, North Dakota is the state's largest telecommunications cooperative. SRT is completing a fiber optic network build throughout its service area and offers Internet, Security, TV, Phone and Business Services. SRT has served north central North Dakota since 1951, employs nearly 200 people, and serves approximately 40,000 customers.
###