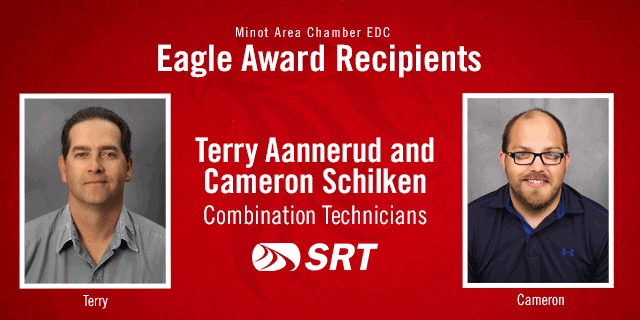 SRT Communications Combination Technicians Terry Aannerud and Cameron Schilken received
Minot Chamber EDC
's Eagle Award this past month. The Eagle Award
recognizes excellence in customer service
 and the recipients must be nominated to receive this award.
Terry and Cameron were nominated by an SRT customer who said, "I had a new internet line dug in, and these two individuals came yesterday to get it into my house. They were exceptional people who took their time so as not to make a mess and yet got the job done in no time. They helped me set up several devices in my home through the internet. They worked so well together, and they certainly complimented each other. I was especially pleased to not hear any cuss words and the way they spoke to each other was so nice to hear. They were so patient with each other and me when we were trying to get things set up. I appreciate all that they did for me yesterday and I think they need to be recognized for their efforts in helping me and others in the community. We all benefitted from having Cameron and Terry come into our homes and having them hook this stuff up. Thanks so much!"
Congratulations Terry and Cameron for this well-deserved recognition, and thank you for taking great care of our customers!