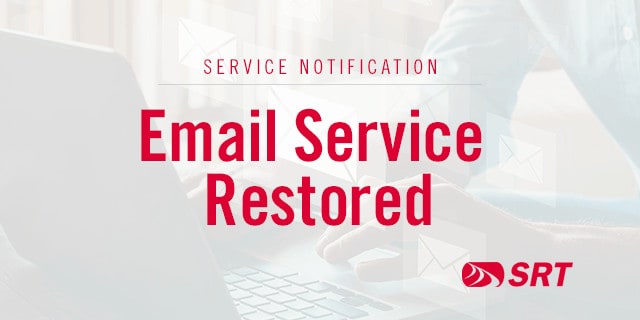 MINOT, ND – SRT's email service is being restored as of January 15, after third party email provider Mail2World experienced an outage that began Wednesday morning, January 12. Mail2World attributed the outage to a ransomware attack and reported that customer data was not compromised.
The ransomware attack was on Mail2World's server that controls distribution of email, not on SRT directly. SRT email customers were not able to send or receive emails throughout the outage.
Founded in 2000, Mail2World supports email hosting services for companies across the country and millions of mailboxes globally. The company is headquartered in the United States with offices located worldwide.
"We know our members deserve better and expect more from SRT. We also expect better service from our vendors. We understand that email is an important part of business and personal life, and we want to thank our members for their patience during this outage," said Cassidy Hjelmstad, SRT CEO and General Manager. "Moving forward, we will do a deep dive into our email product, review our own processes in place, and work even harder to regain your confidence in us."
Mail2World has stated that email functions may be returned incrementally. Email may be delayed as it cycles through the queue.
SRT Communications located in Minot, North Dakota is the state's largest telecommunications cooperative. SRT services include Internet, Security, TV, Phone and Business Services and has served north central North Dakota since 1951, employs nearly 200 people, and serves over 40,000 customers.