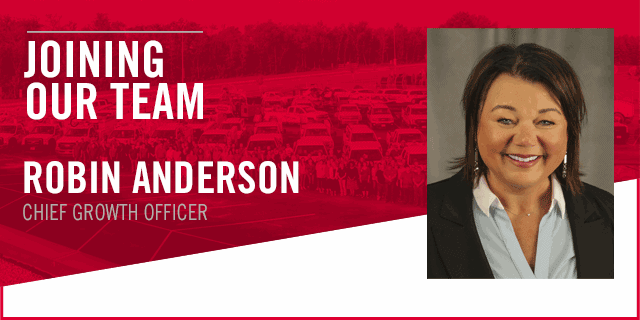 MINOT, N.D. – Robin Anderson, a marketing and development professional with 22 years of telecommunications experience, has been named Chief Growth Officer of SRT Communications. She joined SRT on January 10, 2022.
As Chief Growth Officer, Anderson will lead the business strategy and develop new opportunities and partnerships for SRT. She will also leverage data tools to identify customer needs and ensure SRT continues to thrive in the cooperative environment.
"Robin joins SRT at an ideal time, especially as we continue to build the fiber optic platform serving our members," said Cassidy Hjelmstad, SRT CEO and General Manager. "As we look for future growth opportunities, her sales experience will serve our customers well. She is highly respected in the telecommunications industry. A North Dakota native with years of coop leadership experience, Robin understands the cooperative business model and appreciates the communities we serve. SRT is delighted to welcome this talented professional to our team."
Originally from Binford, ND, Anderson earned a Bachelor of Science in Business Administration from Dickinson State University with a concentration in marketing and agriculture. Prior to joining SRT, she spent five years as Sales Manager at NISC (National Information Solutions Cooperative) and 13 years as Marketing Manager at Dakota Central Telecommunications Cooperative. Anderson also worked for four years as Director of Business Development and Senior Marketing Consultant for Pivot Group, a marketing agency specializing in the rural broadband industry.
"I am excited to be joining Cassidy and the talented team at SRT during a time of growth and transformation," said Anderson. "SRT has a rich history built on trust and innovation. I look forward to being part of this next chapter as we continue to serve our members in delivering the best communication services available."
Anderson and her husband, Glenn, have three children and have long enjoyed rodeo as a family. Their oldest son, Bridger, is a professional steer wrestler in Oklahoma; Cedar is a senior at Northwest Oklahoma State University; and Dawsyn is a senior at Carrington High School.
SRT Communications, headquartered in Minot, North Dakota, is the state's largest telecommunications cooperative. Established in 1951, SRT employs nearly 200 people and serves more than 48,000 customers across north central North Dakota. SRT is committed to bringing the benefits of fiber to rural and urban communities alike and earned the distinction as a Certified Gig-Capable Provider in 2017. Services include internet, TV, phone, and security/surveillance systems for home and business.