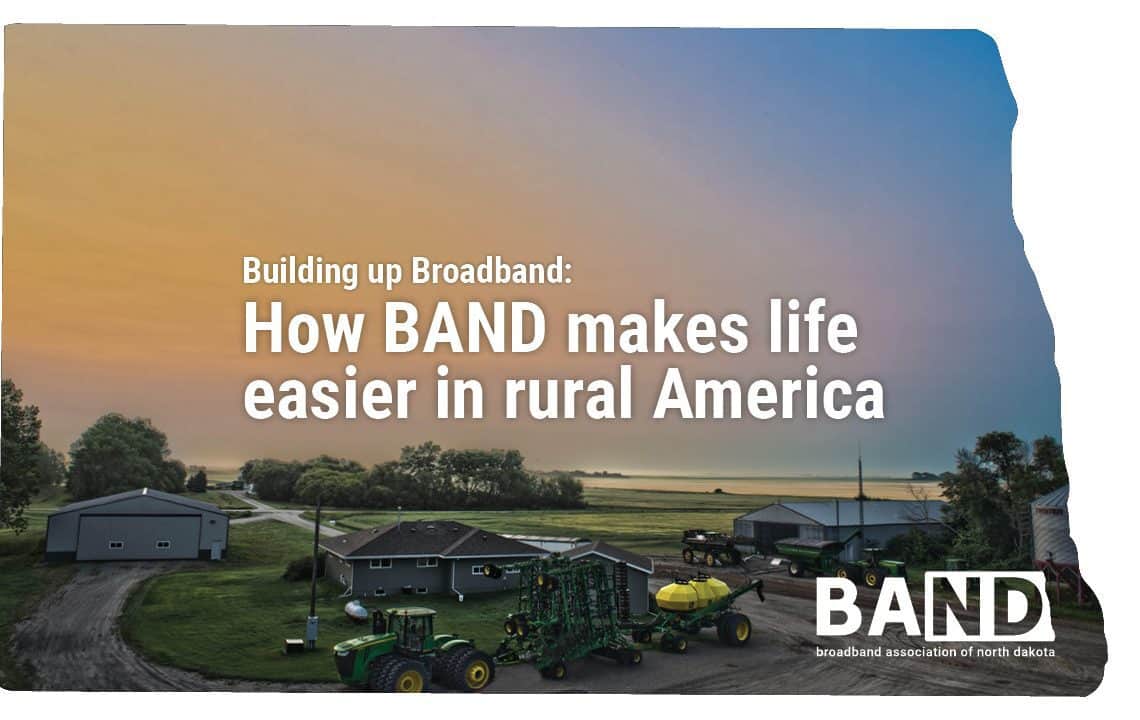 In the winter, it's quiet out at Feil Farms. The 3,500-acre farm is 20 miles northwest of Langdon, far from the hustle and bustle of town. Sean Feil grew up here watching his grandfather and father work the land, growing barley and wheat. Later, they would start planting canola, and years later, soybeans. Each day was spent outdoors, and each day was different. Sean couldn't imagine any other life.
"I enjoy being outside," he says. His voice is low, thoughtful. "Being your own boss. Watching the crops grow each year."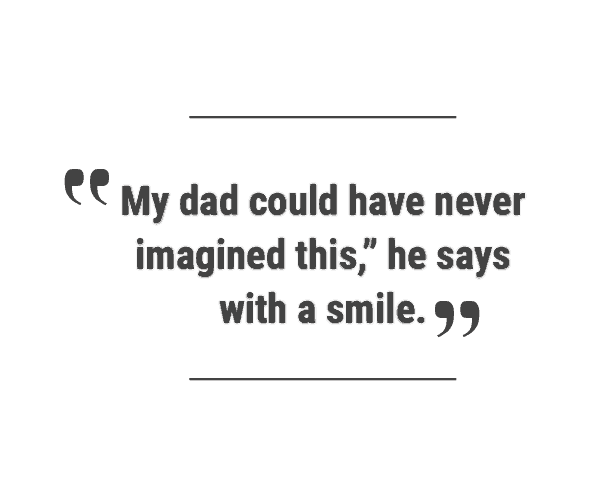 It's a familiar lifestyle to many families in rural North Dakota, where agriculture is the leading revenue-producing industry and accounts for about one-fourth of the state's economic base. From Williston to Wahpeton, this is the heart of "America's Breadbasket," where we value the art of working the land. In fact, 39.1 million acres — nearly 90% of North Dakota's land area — is in farms and ranches.
And yet, what does living in rural America look like in a world that is growing increasingly connected? What does it look like in a post-dot-com society where the internet is no longer a nice-to-have, but a need-to-have?
Questions like these are why in 1953, a group of North Dakota telephone cooperatives had the forethought to band together to keep North Dakota connected. They met at the Patterson Hotel in Bismarck, with a mission to guard against unfavorable legislation and ensure the highest quality communication systems would remain available across North Dakota.
They had no idea how much would change.
This committed organization has ebbed and flowed through a revolutionary era of communication. At the time of the association's creation, a majority of rural North Dakota residents had party-line service, wires were strung from pole to pole and "long distance" calls were prohibitively expensive. Today, rural areas of the state have access to some of the fastest and most affordable broadband technology found anywhere in the United States.
Today, 65 years later, this organization now serves North Dakota as BAND — the Broadband Association of North Dakota. And while so much has changed, their mission has not; to ensure the highest quality communication systems are accessible to all North Dakotans. Their hard work over the decades laying over 45,000 miles of fiber across the state has changed the lives of folks across North Dakota. Folks like Sean, and his family, on their farm in Langdon.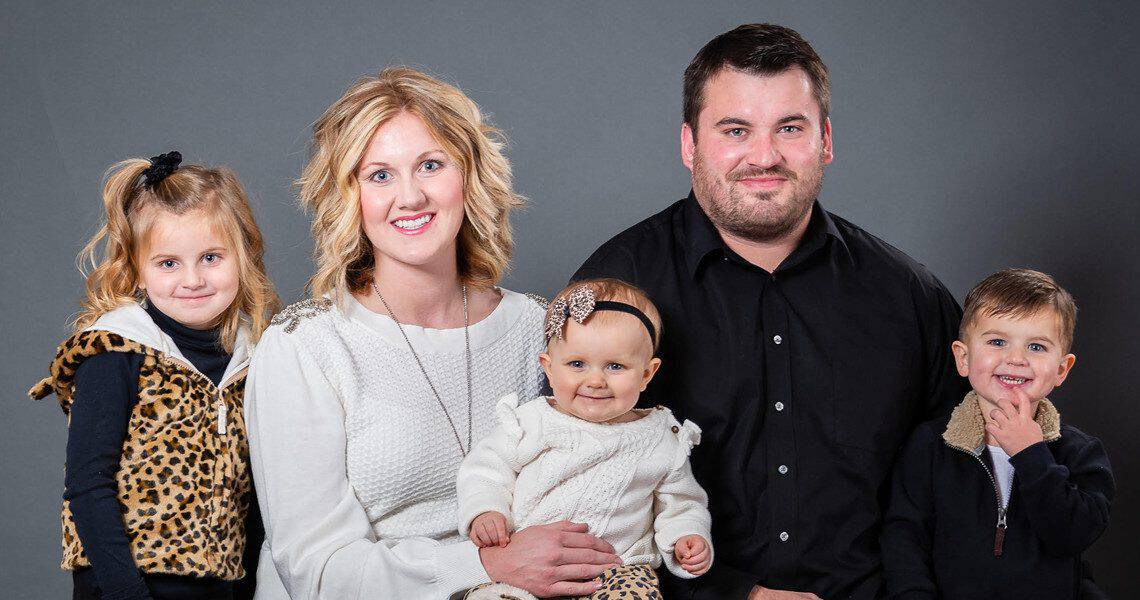 As Sean reflects on the broadband services he uses to sustain his farm, he shakes his head with a smile.
"My dad could have never imagined this," he says.
Living in a rural area, Sean was used to not having a good connection from the farm to the 'outside world'. The phone reception was choppy, and if he needed to look up equipment on the internet, he had to wait until he went back into Langdon. Every day, he said goodbye to his wife and kids and made the 20-mile drive to check on the farm. At night, he often lay awake worrying if the crop and equipment were safe — but he had no way of knowing.
That is until he brought up his challenge to his uncle, who works at United Communications, a member organization of BAND. He suggested Sean try out installing a wireless access point and a security camera system, to allow him to check on the farm remotely.
Sean was sold. With the help of United Communications, he installed four cameras throughout his farm. Now, Sean gets a text any time motion is detected by the sensors or the cameras, and can even see who it is. Everything is also recorded on his DVR, so he can rewind and review video footage if needed.
"I have a lot more peace of mind," Sean said. "I don't worry so much when I'm gone."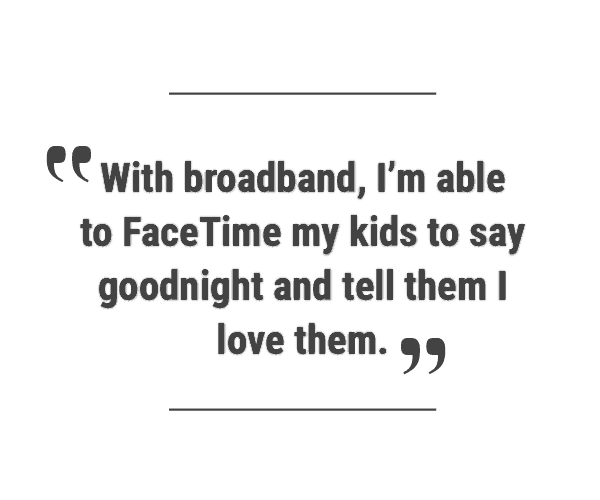 In addition, his broadband provider dug fiber out to Sean's farm and set him up with a wireless access point so that he now has a point-to-point internet connection throughout the yard. Now, he can keep up to date on markets, weather, and look up equipment parts right from the field.
Far more important for Sean, however, is that he can spend more time with his wife Brittany, his 4-year-old daughter, his 3-year-old son, and their new 15-month-old little girl. Before, his frequent trips took time away from home. During busy season, when work requires him to stay overnight at the farm, he was forced to say goodbye and had little to no connection with his family. Now, with the broadband services from his local broadband provider, Sean is able to stay connected.
"During the busy times, I can still stay in touch with my wife and ask how things are going back home," he said. "And every night before bed, I FaceTime my kids to say goodnight and tell them I love them."
For the 18 local broadband providers across North Dakota that make up BAND — this is why we do what we do. It's stories like Sean's that illustrate what it looks like to live in rural America today; how North Dakotans can enjoy the beauty of rural living while maintaining quality broadband and connection across the state. Serving the people of North Dakota is how it all started 65 years ago — and no matter where the adventure of communication services takes us, BAND's mission will remain true for the next 65 years and beyond.
Learn more about BAND and how you can connect with your local BAND organization, at broadbandnd.com.