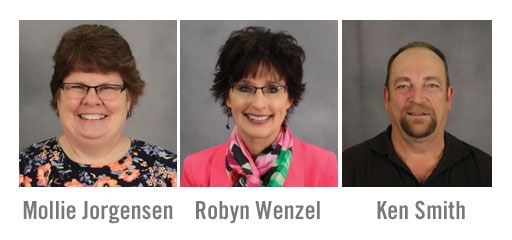 Robyn Wenzel
Robyn will have been with SRT for exactly 38 years on her retirement day, which began on June 1, 1981 and ends June 1, 2019. She started in residential customer service with NSP Telephone/Electric Company. NSP was sold to Minot Telephone, then to SRT Communications and she continued her career in the Business Customer Service department.
Robyn's plans for retirement are moving to the Black Hills area with her husband, Kevin, and traveling throughout the United States.
Ken Smith
Ken will have been with SRT for 12 years by the time he retires on June 1, 2019. His career was spent as a Communications System Technician, servicing our business customers' phone systems, internet and more.
After retirement, Ken plans to relocate from Minot to sunny Lake Havasu, Arizona. He also looks forward to being able to spend more time traveling.
Mollie Jorgensen
Over the course of Mollie's 25 years at SRT, she has held positions in our Satellite TV, Customer Service, Network Operations Center, Service Center, and most recently in our Network Provisioning Department. She has loved to see how technology has advanced over time, especially in her current position.
Following her retirement, she will be spending her summers at Mouse River Park, near the North Dakota/Canadian border, and her winters in The Villages, Florida.