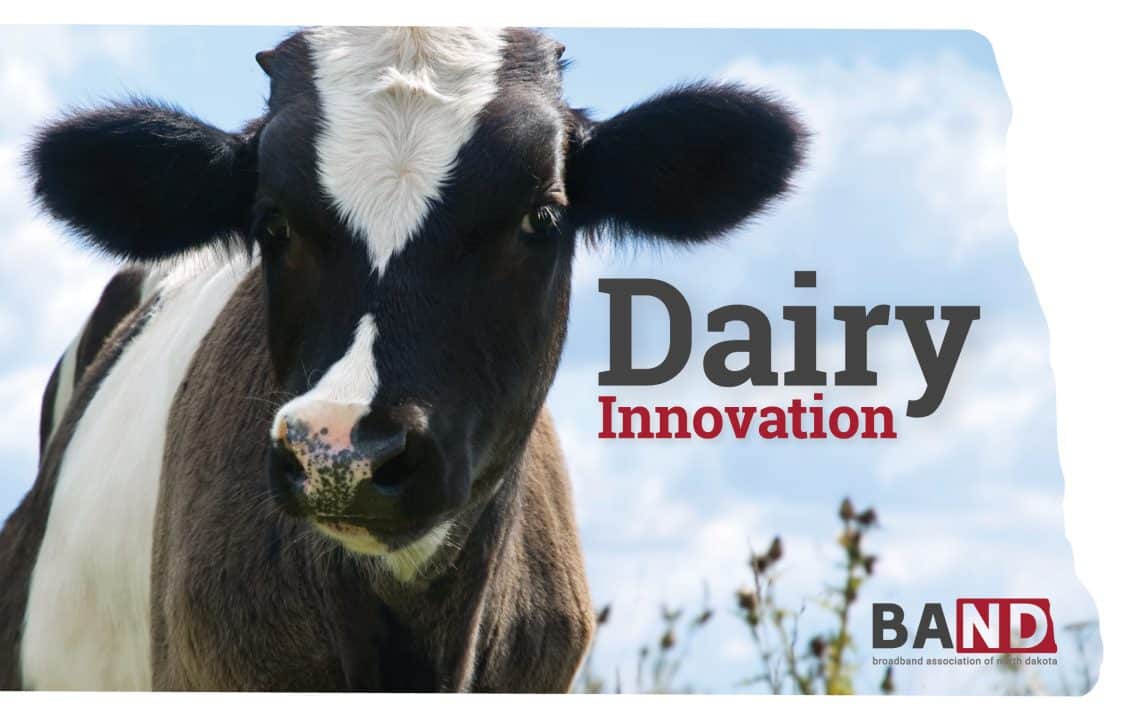 BAND equips Northern Lights Dairy for next-generation farming
Anytime you unwrap a stick of Land O'Lakes butter, you're likely looking at a product made with Northern Lights Dairy milk. Northern Lights Dairy is a Grade-A dairy farm facility located just south of Mandan, owned and operated by the Holle family. Andrew Holle is a 4th generation dairy producer, and he lives there with his wife, Jennifer, their four kids, and over 725 milk cows.
Today, Northern Lights is a recognizable name and has found success selling milk to Land O'Lakes in Bismarck for many years. They've established themselves as innovators in the industry, utilizing the latest precision ag technology to optimize their operations.
However, when Andrew and Jennifer first bought the farm 16 years ago, that kind of future was nearly impossible to imagine.
"It was just a shell of a dairy farm at the time," Jennifer said. "Just the roof and the parlor. There was no infrastructure.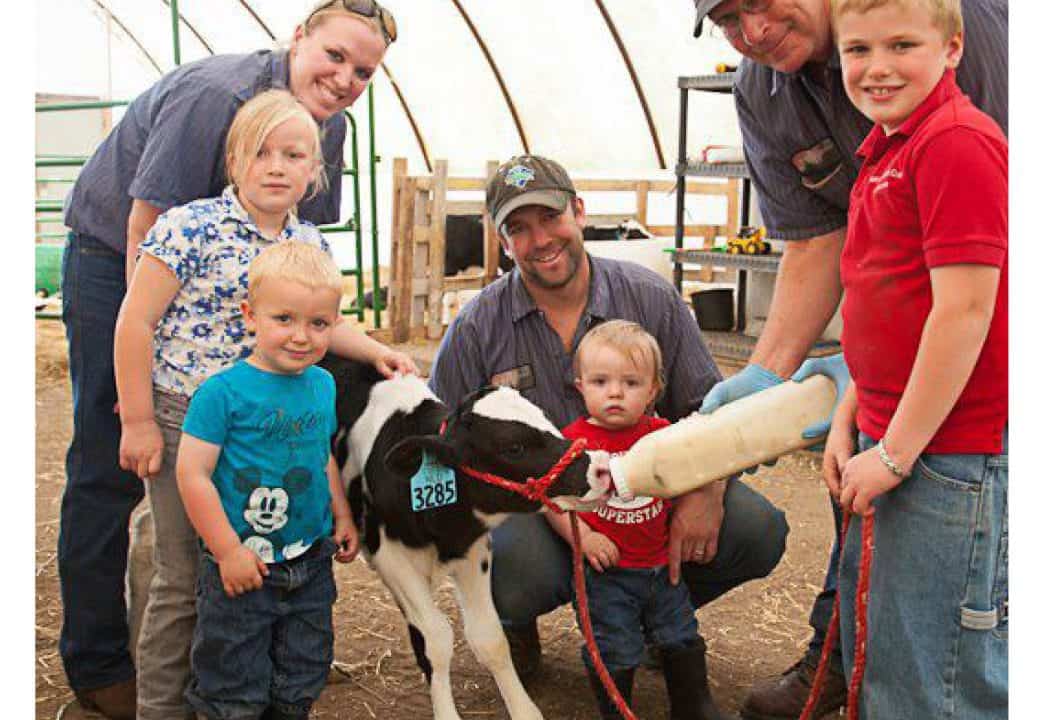 At the time, the newlyweds had just graduated from college with degrees in Animal Science and knew they wanted to expand Andrew's multi-generational dairy farm. When they heard of a foreclosed dairy farm not far from the family dairy in New Salem, they took a tour. Though it didn't offer much, the 36-stall rotary parlor caught their eye. Besides, both of them had a passion for Precision Ag and AgTech. This was a chance to build a new, innovative facility from the ground up.
It's a commitment they implement to this day, Jennifer says.
"Our motto is to work smarter, not harder," Jennifer said. "We're constantly upgrading and implementing new technology. We always ask ourselves, 'What can we use to make the cows more comfortable? How can we help our farm? How can we make it more successful?'"
As the family began to grow their farm, an important need quickly emerged: a way to monitor the various aspects of their business. It was increasingly difficult to accurately monitor the cows, employees, and various stations — all crucial for running a smooth operation.
Their solution: a security camera system.
"A camera system provides security for employees, helps with quality control, and gives you flexibility with time management," Andrew explained. "In our industry there's a lot of manual labor required. Being able to remotely monitor allows us to be more flexible and feel comfortable leaving the farm."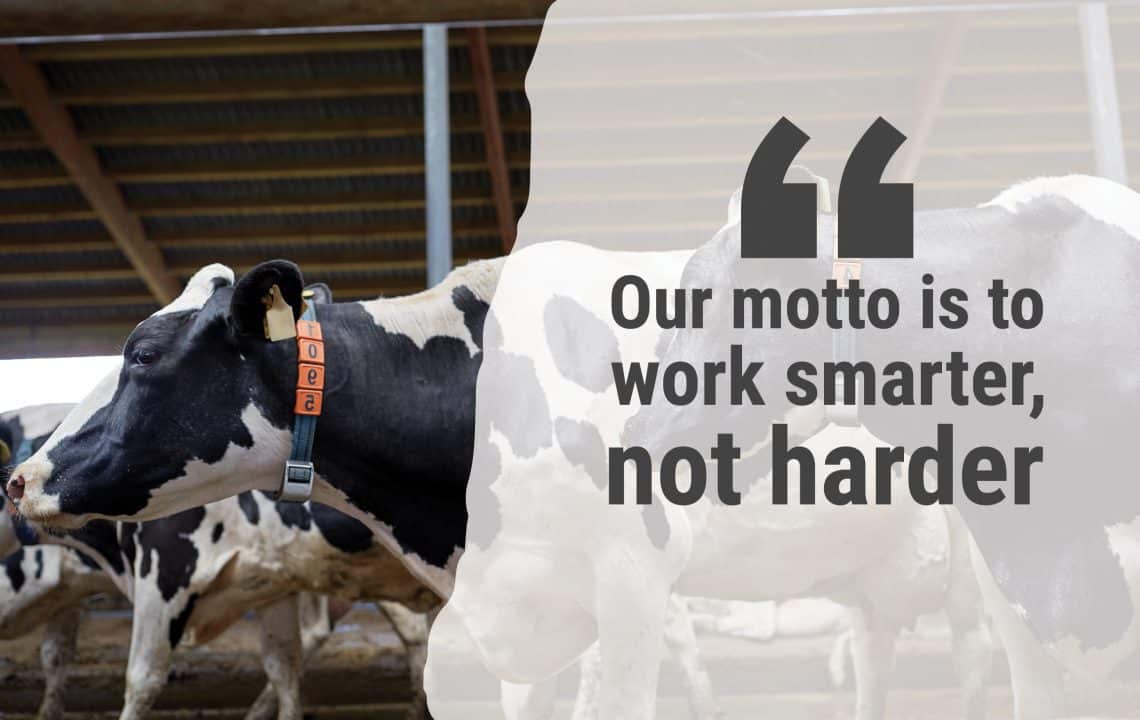 Their first attempt was a do-it-yourself system. They had high hopes that this would enable them to keep a close eye on their operation. However, they were soon fighting an uphill battle; poor quality cameras, metal buildings causing problems, and poor internet connection made the system more hassle than help.
They soon realized they'd invested a lot of time and money into a system that wasn't working as they'd hoped. As their operation continued to grow, they needed help, and fast.
They found their answer with their local BAND member organization, WRT. They heard about the security camera systems that WRT offers and decided to give it a shot.
"We knew we were getting a quality system," Andrew Holle said. "And there's the added benefit of having someone there in person to install it, make sure it's working right, and come back if needed."
The results were instantaneous — literally. While WRT team members were installing the cameras, the Holles noticed a cow had tipped over in one of the pens. Curious how this happened, they were able to rewind the DVR recording and see that another cow had hit the other and knocked it down.
With over 725 cows, a method of surveillance is vital to the animals' success. Monitoring each cow's health and milk production are all part of maintaining a healthy herd. Thanks to WRT's broadband services, they are able to use RFID tags as "Fitbits" for their cows; tracking their temperature, heart rate, eating, and sleeping habits, all to ensure they are in good health.
"Ever since WRT put in fiber, we've had no problems. Our activity collars are able to send data at a high speed, and we're able to track each cow individually. It's the best way to provide personalized care for each cow," Jennifer said.
A quality surveillance system also helps them monitor the most crucial moment for a cow: when they're born. As Calving Manager, Jennifer oversees an average of 3-4 births a day — and sometimes up to 15. The health of the calf at birth determines their health throughout their lifespan, she explained, and it's a role she takes very seriously.
"We care about our animals," she said. "This is what we do day in and day out because we love it. We don't look at our cows as money-makers. They're an extension of our family."
Of course, although they love their work, running a dairy farm at this scale can be exhausting. In the early years, without a way to monitor the farm, the family was unable to travel far from home. With the security cameras in place, the Holles are now able to ensure their bovine family is well cared for, even from abroad. Now, they're able to check in on their cows from anywhere; trade shows, visiting family, even during a well-earned family vacation to Cancun.
"I got up in the morning and checked on all the baby calves through my phone. Andrew could go into the milking system and see what our milk production was like that day, and check on the sick cows," Jennifer said. "All while sitting on the beach with a drink in our hand."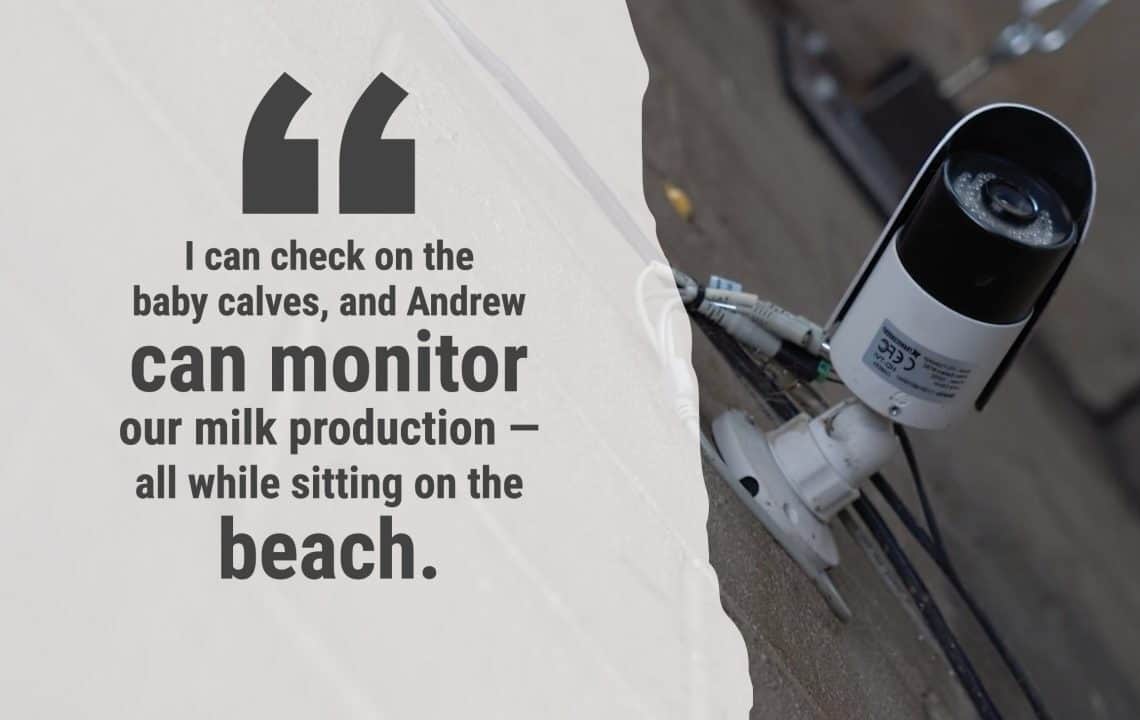 tilizing WRT's technology is part of the Holles greater vision to create a successful and innovative dairy farm; one that puts animal care at the center and creates a safe environment for animals and employees alike.
"We rely very heavily on WRT and broadband. It really is priceless how much time we save by utilizing the security system," Jennifer said. "If we didn't have that kind of technology, we couldn't be a successful farm."
With how much technology has transformed the ag industry in the past decade, the Holles can only imagine what it will look like for the next generation. Already, their four kids — now 5th generation farmers — are learning a new, innovative way of farming. And while Jennifer never puts any pressure on any of them to one day take over their farm, she sees a particular affinity for the work in her 9-year-old son, Devon.
"He is his father's shadow," she said with a laugh. "He's got the pens in his pocket, wears the same boots, and drives the payloader and the Bobcat."
This is what Andrew and Jennifer love most — a business and lifestyle that allows them to grow, learn, and be together as a family while doing work that they love. They both know that no matter how technology continues to change the industry, the heart of why they do what they do remains the same.
"We do what we do because we love it. Come rain, snow, sunshine," Jennifer said. "It's hard to describe, because it's so much a part of who you are. It's not a job. It's a livelihood."
Learn more about BAND and how you can connect with your local BAND organization, at broadbandnd.com.