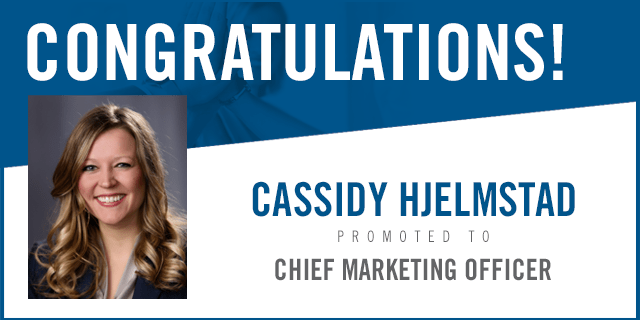 MINOT, ND – Cassidy Hjelmstad has been promoted to chief marketing officer (CMO) at SRT Communications, Inc. Hjelmstad has served as the director of corporate communications since 2010, and will continue to lead SRT's corporate communications and customer service and billing department while assuming the additional responsibilities of corporate officer.
SRT CEO and General Manager Steve Lysne said, "Cassidy has provided leadership in our most customer-facing departments, which has created relationships with our members that exemplify our mission at SRT. Cassidy has a wealth of expertise and plays an integral role in the direction of the company. We are confident that she will excel in her role as chief marketing officer."
In her time at SRT, Cassidy has been instrumental in leading teams to implement effective strategies for product sales growth and exceptional member experience. With her data driven approach, Cassidy has directed marketing, education efforts, and digital strategy to increase customer acquisition and satisfaction on SRT's growing fiber optic network.
Cassidy has a passion for integrating technology and rural economic development opportunities. She has contributed to national advocacy discussions promoting rural broadband availability as part of her work on the NTCA – the Rural Broadband Association Marketing Committee and Smart Rural Community Advisory Group.
Hjelmstad stated, "10 years ago, I began my SRT career. Since then, I have worked with countless employees, members, and community and industry leaders that have challenged me to become a better marketer, communicator, and leader. Each day, I get to work with and learn from some of the best in the industry, to whom we owe much credit for SRT's continued growth and expansion. I look forward to the opportunity to continue SRT's mission to meet and exceed the needs of the members and communities we serve."
SRT Communications located in Minot, North Dakota is the state's largest telecommunications cooperative. SRT is completing a fiber optic network build throughout its service area and offers Internet, Security, TV, Phone and Business Services. SRT has served north central North Dakota since 1951, employs nearly 200 people, and serves approximately 40,000 customers.
###