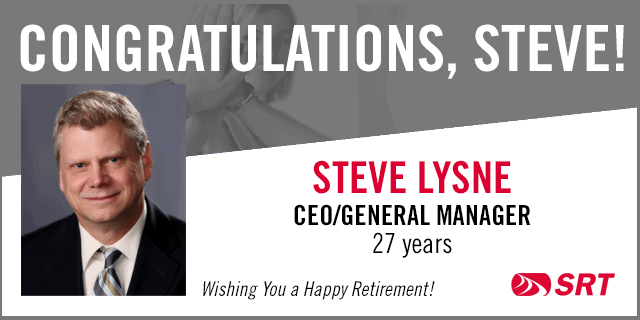 MINOT, ND – SRT announced today that Chief Executive Officer/General Manager, Steve Lysne, will retire after 27 years with the organization. Lysne will retire at the end of the year. The cooperative's board of directors will immediately begin the search for a new CEO/General Manager.
Lysne has served as CEO/General Manager since January 2003. Prior to that, he was the Chief Financial Officer for eight years. Known to many as a financial innovator, Lysne has been instrumental in strengthening the cooperative's current financial position, which will allow for the completion of SRT's fiber-optic build throughout its territory. Upon completion, approximately $110 million will have been invested in SRT's network upgrade.  
"Steve's decision-making throughout his tenure put our members' needs first, while his wealth of industry knowledge and financial acumen has taken this cooperative to a new level of success. On behalf of the board, we wish him nothing but the best in his well-deserved retirement," SRT Board President Allan Engh said.
Throughout his time, Lysne guided the cooperative to build an independent wireless network that served north central North Dakota for 20 years. He also secured nearly $90 million in loans from USDA's Rural Development Rural Utilities Service program to deliver fiber-optic technology to customers. Under Lysne's guidance, the cooperative has nearly doubled in assets from $95 million in 2002 to $180 million in 2020.
Lysne stated, "It has been a privilege to work for this cooperative, alongside the talented past and present employees. I would be remiss if I did not thank the SRT Board of Directors for allowing me to lead the organization. It was my intent to be fiscally responsible with our members' equity while being a leader in the telecommunications space and offering the best services available. I am grateful for the opportunity to have done that."
Lysne serves as a member of the DCN board of directors, vice-chair of Trinity Health, and president of the board for the North Dakota Telephone Association. Previously, he was president of the board of the Rural Wireless Association, a former board member on the Minot Area Development Corporation and former board member of Integrity Mutual Funds. Lysne and his wife, Kari, look forward to spending time with their children and grandchildren.
SRT Communications located in Minot, North Dakota is the state's largest telecommunications cooperative. SRT is completing a fiber optic network build throughout its service area and offers Internet, Security, TV, Phone and Business Services. SRT has served north central North Dakota since 1951, employs nearly 200 people, and serves approximately 40,000 customers.
###