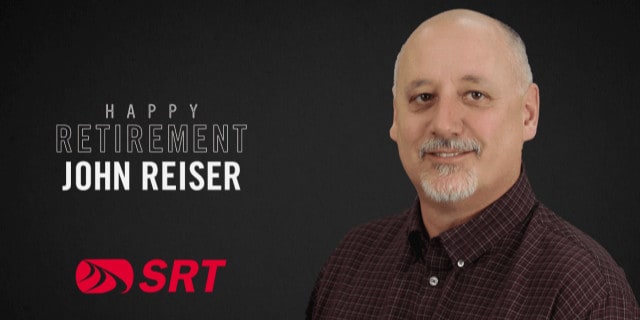 MINOT, N.D. – John Reiser, SRT Chief Operating Officer and Assistant General Manager, will retire November 30 after 26 years with the organization.
Reiser joined SRT as Controller in 1996, then progressed to Director of Accounting before becoming COO/Assistant General Manager in 2003. As COO he led SRT through several pivotal milestones for the cooperative. While SRT was transitioning from a landline phone company to a broadband company, Reiser oversaw day-to-day operations while managing key projects that helped SRT build its state-of-the-art fiber optic network. He also negotiated with national wireless carriers when SRT exited the retail wireless business in 2017, as well as ongoing tower lease agreements.
"We all hold John in high regard for his impressive knowledge of telecommunications, from policy and insurance to contracts and many other aspects of the industry," said Cassidy Hjelmstad, SRT Chief Executive Officer and General Manager. "His ability to view situations with the big picture in mind will be greatly missed."
A respected voice in the industry, Reiser served nationally on NTCA-The Rural Broadband Association's Retirement & Security Program and Savings Plan Trust Committee. His legal background and human resources expertise were assets to the national committee and an invaluable resource for SRT employees.
SRT Communications, headquartered in Minot, North Dakota, is the state's largest telecommunications cooperative. Established in 1951, SRT employs nearly 190 people and serves more than 48,000 customers across north central North Dakota. SRT earned the distinction as a Certified Gig-Capable Provider in 2017. Services include internet, phone, and security/surveillance systems for home and business.