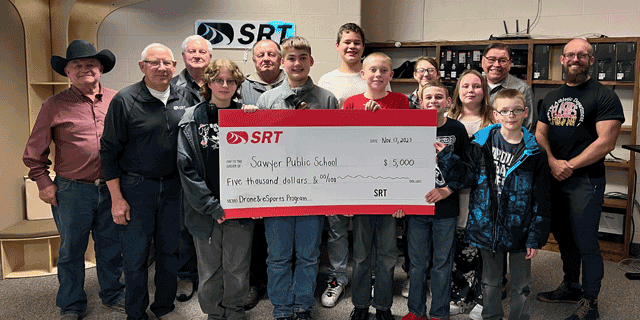 Sawyer, N.D. – SRT presented $5,000 on November 13 to Sawyer Public School, supporting its inaugural year of Drone Racing and eSports. SRT's donation helped the school buy equipment like computers, accessories, drones, controllers, and headsets.
The program offers drone racing and gaming opportunities to students in grades 7-12. It's the only in-house extra-curricular activity at Sawyer Public School. The school's Athletic Director and program leader, Ryan Stockie, said it provides students with technological opportunities that challenge their minds and bodies as well as a social/emotional learning environment.
"It gets rid of the bias or stereotype linked to gaming because it uses technology as a keyhole to physical activity as well," Stockie said. "It also gives exposure to training in potential jobs that may be available to these kids after high school."
Drone-racing students practice and compete using drone simulation software and have four drones to fly onsite. While the state tournament was canceled this year, Stockie said they look forward to getting to next year's.
"Programs like Sawyer Public School's are an example of the future. Traditional athletics are important, but so are other opportunities that give students a chance to expand their minds and abilities," said Kristi Miller, SRT Board President. "We at SRT feel it's crucial to support our communities and technology opportunities like this one."
The Drone Racing season will soon conclude and up next is a 10-week competitive eSports season. Students will continue to compete against others in North Dakota, South Dakota, and Minnesota. Choosing from a variety of games, students are matched with their competitors by skill level. Drone Racing and eSports at Sawyer Public School are facilitated by Fenworks in Grand Forks.
SRT Communications, headquartered in Minot, North Dakota, is the state's largest telecommunications cooperative. Established in 1951, SRT employs nearly 190 people and serves customers across north central North Dakota. SRT earned the distinction as a Certified Gig-Capable Provider in 2017. Services include internet, phone, and security/surveillance systems for home and business.