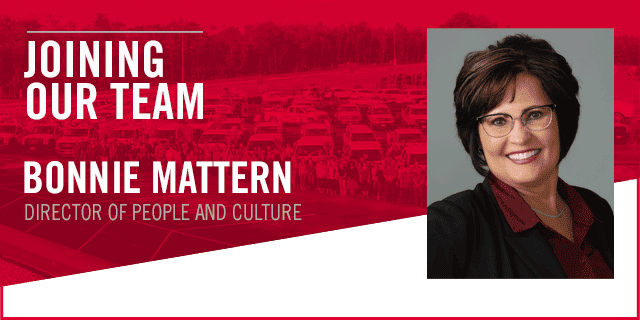 MINOT, N.D. – Bonnie Mattern, a human resources professional with more than 25 years of administration and leadership experience, has joined SRT as Director of People and Culture.

Mattern oversees all SRT human resources responsibilities including recruitment, onboarding, retention, labor relations, benefits and payroll, and risk management and compliance. She also develops and leads the strategy for an employee-oriented, high-performance culture that emphasizes quality, productivity, job satisfaction, goal attainment, and employee engagement.
"Bonnie's depth and breadth of experience working for complex organizations affords us the opportunity to build on our current systems and position SRT for the future," said Cassidy Hjelmstad, SRT CEO and General Manager. "Her addition to our team ensures that SRT has robust human resources capabilities that are vital to our continued success."
Prior to joining SRT, Mattern spent three years as Director of Human Resources at Trinity Health, supporting a diverse workforce of 3,000 employees and leading a 20-person team. Mattern served as Human Resources Director for CHI St. Alexius Health Devils Lake Hospital before she joined Trinity Health, initially as Director of KeyCare Medical before leading HR. She also served more than 12 years as Director of Human Resources, and five years as Clinic Administrator, at the Heart of America Johnson Clinic.
"After more than 30 years in healthcare, I consider it a privilege to become part of SRT, a telecommunications organization of excellence," said Mattern. "I'm a firm believer that people are our greatest asset in the workplace. I am honored to contribute to improved efficiency and satisfaction companywide."
Originally from Rugby, ND, Mattern earned a bachelor's degree in Business Administration from the University of Mary, Bismarck. She added, "When I'm not at work, I enjoy spending time with my fiancé and two grandchildren, outdoor activities, and playing pinochle!"