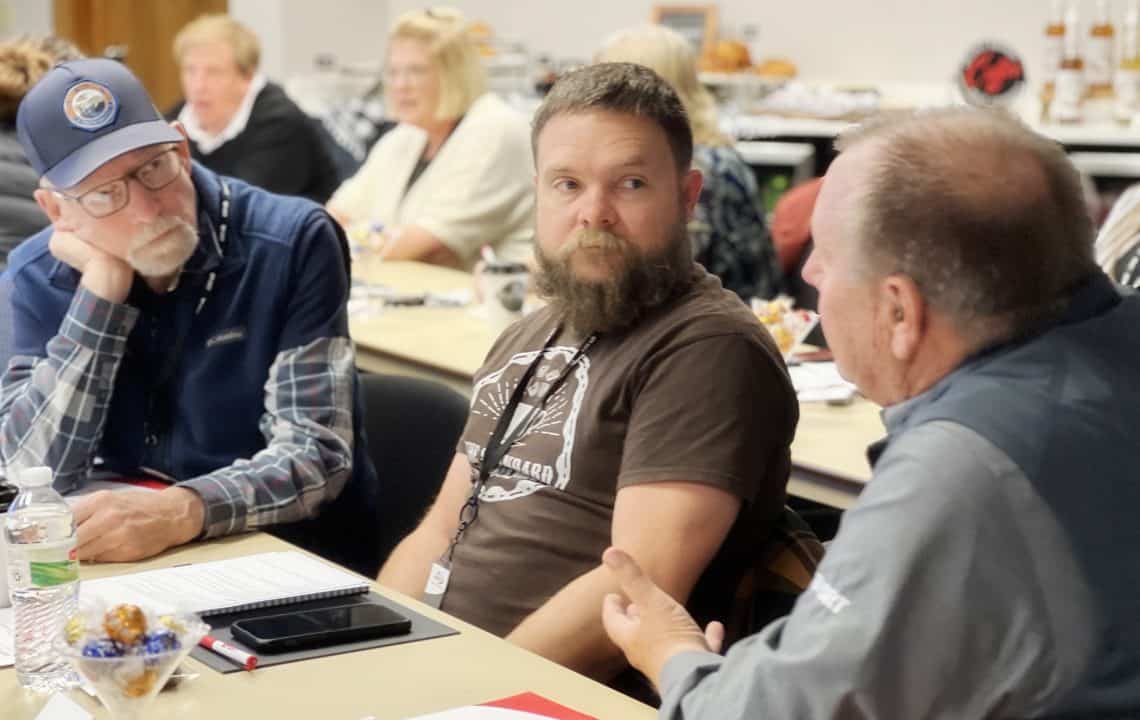 Minot, N.D. – SRT welcomed a diverse group of community leaders to its Minot headquarters for Rural Prosperity: A Workshop for Enriching Communities on October 12. Thirty leaders and champions, representing more than a dozen communities across north-central North Dakota, attended the collaborative workshop.
The Rural Prosperity event offered the opportunity for attendees to learn about available funding and other resources, connect with their peers, hear real-life success stories from other communities, and begin building plans to help their own communities thrive.
Kristi Miller, SRT Board President, and Cassidy Hjelmstad, SRT CEO and General Manager, opened the day's sessions by welcoming attendees and highlighting stories and goals for the day. Shirley Bloomfield, CEO of NTCA–The Rural Broadband Association, delivered a video message of encouragement.
Erin Oban, State Director, USDA Rural Development, set the stage for the workshop, which was held during National Coop Month. Quoting from 8th grade North Dakota social studies and underscoring the theme of the day, Oban said, "Cooperatives are 'formed by a group of people who want to pool their resources for a specific purpose.'" She continued with the "idea that we are better together than we are apart" and posed questions to the group: What do you want for your community? What do you dream of? What do you want for your kids?
Putting dreams into practical context, Megan Langley, Founder and Executive Director of Strengthen ND, discussed the benefits of incremental growth and building a culture of momentum: "Small actions can snowball and amount to meaningful change." Attendees talked with each other about their communities' strengths and where they can use support. Langley then prompted them to work on identifying how they could assemble their community team to make things happen. She offered strategies such as leveraging local grantmakers, engaging youth, and connecting with others.
Brian Gion of The Rural Electronic and Telcom Development Center discussed how the success of one community can affect the overall economic health of rural North Dakota: "If a town loses its grocery store, its residents won't necessarily drive to Minot to shop. They might move." In addition to food access, Gion illustrated how the cooperative model can pool shared services to meet childcare, home care, and ambulance needs in rural communities.
Erin Oban shared funding opportunities available through USDA Rural Development for community programs, rural business and cooperative programs, SEARCH (water project) grants, and the Rural Energy for America Program. USDA Rural Development seeks to help the hundreds of communities that North Dakota has built to "survive and thrive." Pointing to high-speed internet as essential infrastructure for rural communities to succeed, Oban said North Dakota was "really ahead of our time when we invested in broadband."
Becky Towery, Community Relations Coordinator for SRT, provided an overview of opportunities that rural communities can pursue through the cooperative. She outlined the federal Rural Economic Development Loan and Grant program (REDLG), Rural Development Finance Corporation (RDFC) grants matched by SRT, Foundation for Rural Service (FRS) grants, and SRT's own corporate giving program (SRT Cares), as funding options for eligible community betterment and development projects.
Langley wrapped up the day with an interactive session on putting "Big Dreams" into practice by breaking down the work and building a coalition of partners.
Attendees networked with each other throughout the day and left with practical information for their own communities. Daniel Dew of Mohall, associated with the Renville County Economic Development Committee, said, "There are at least three things I'm taking away from the workshop today," which included exploring the ND Rural Grocery Initiative for food access and encouraging more dialogue about community needs and ideas: "We need to ask. We need to talk to people."
For more information about SRT Cares and other resources that can support community development projects, visit srt.com/srtcares.
SRT Communications, headquartered in Minot, North Dakota, is the state's largest telecommunications cooperative. Established in 1951, SRT employs nearly 190 people and serves roughly 8,000 square miles and 24,000 customers across north central North Dakota. SRT earned the distinction as a Certified Gig-Capable Provider in 2017. Services include high-speed internet, phone, and security/surveillance systems for home and business. Learn more at www.SRT.com.