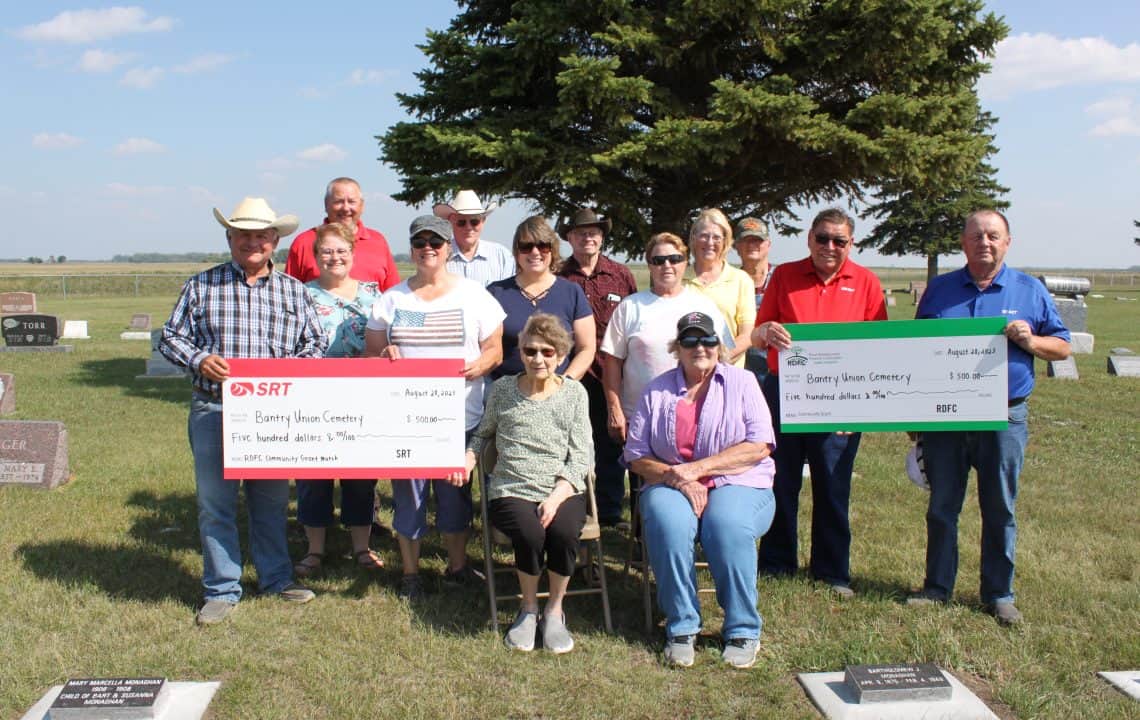 MINOT, N.D. – Bantry Union Cemetery in McHenry County was recently able to place pre-1940 grave markers, thanks in part to funding from a Rural Development Finance Corporation (RDFC) grant matched by SRT Communications.
RDFC awarded a $500 grant to Bantry Union Cemetery in 2022, which SRT matched with an additional $500 donation. Seventeen new grave markers were placed in honor of area settlers this summer.
The cemetery, located north of Towner, was established in the early 1900s. While the City of Bantry is no longer incorporated, the cemetery's sexton and five-person board will continue to work to keep it clean and up-to-date with its grave sites.
"I know quite a few people buried here," board member Darlene Tiffany said. "After losing family members myself, it's so important to honor our deceased family members, and it's been really rewarding to be able to place so many markers."
Established as a non-profit organization, funding comes from several sources. Board members for Bantry Union Cemetery are working on fundraising to place a dozen more pre-1940 grave markers this fall. Their research has shown that there were about 70 unmarked graves.
SRT is among the North Dakota rural telecommunication and electric cooperatives that are members of RDFC. A nonprofit finance and development corporation, RDFC provides funding for economic development and diversification projects in rural North Dakota. Applications are submitted to RDFC; if approved, funds are matched 100% by SRT.
"SRT appreciates the rural towns and efforts made by community members who help with projects like this one at Bantry Union Cemetery. We're happy to be able to match RDFC funding," said Kristi Miller, SRT Board President.
SRT Communications, headquartered in Minot, North Dakota, is the state's largest telecommunications cooperative. Established in 1951, SRT employs nearly 190 people and serves more than 48,000 customers across north central North Dakota. SRT is committed to bringing the benefits of fiber to rural and urban communities alike and earned the distinction as a Certified Gig-Capable Provider in 2017. Services include internet, phone, and security/surveillance systems for home and business.
The Rural Development Finance Corporation (RDFC) is a nonprofit corporation that encourages economic diversification and community vitality through the generation of funding that supports sustainable asset building. Funding for RDFC programs comes from fee income generated by Dakotas America LLC, a community development entity providing New Market Tax Credits in economically distressed census tracks across the United States. The North Dakota Association of Rural Electric Cooperatives provides support to RDFC.