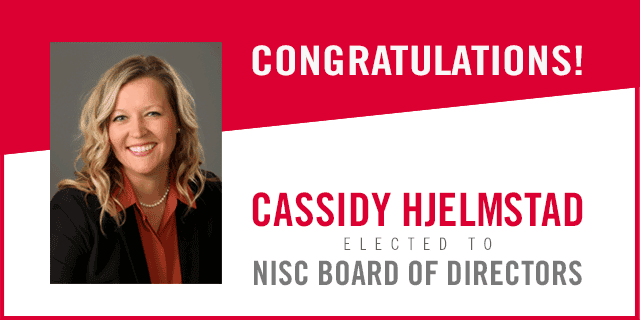 MINOT, N.D. – Cassidy Hjelmstad, CEO and General Manager of SRT Communications, was elected to the National Information Solutions Cooperative (NISC) Board of Directors as District 14 Director of Communications. Her three-year term began January 1, 2022.
NISC is an information technology organization that develops, implements and supports software and hardware solutions for its members. They deliver advanced solutions, services and support to 882 independent broadband companies, electric cooperatives and other public power entities.
Hjelmstad is the fifth Chief Executive Officer/General Manager of SRT Communications, North Dakota's largest telecommunications cooperative. For the past 11 years she has held executive positions at SRT, leading strategy to achieve business goals while delivering exceptional customer service.
"Cassidy brings a member-focused philosophy and a vision for growth as SRT's CEO/General Manager," said Kristi Miller, SRT Board President. "Her seat on the NISC Board of Directors adds to the positive influence she will have on our coop and the industry. She has direct experience with NISC's systems and an objective understanding of their benefit to broadband companies."
Hjelmstad also serves the region through several other Board and Committee appointments, including the NTCA Marketing Committee (The Rural Broadband Association); the NTCA Smart Rural Community Advisory Committee; the Broadband Association of North Dakota (BAND) Marketing Committee; the Minot Area Chamber Economic Development Corporation; Prairie Grit Adaptive Sports; and the Minot Area Community Foundation.
 SRT Communications, headquartered in Minot, North Dakota, is the state's largest telecommunications cooperative. Established in 1951, SRT employs nearly 200 people and serves more than 48,000 customers across north central North Dakota. SRT is committed to bringing the benefits of fiber to rural and urban communities alike and earned the distinction as a Certified Gig-Capable Provider in 2017. Services include internet, TV, phone, and security/surveillance systems for home and business.
 NISC is an industry leader providing information technology solutions including financials, service, operations and marketing as well as many other supporting platforms and business services. With facilities in Mandan, N.D., Lake Saint Louis, Mo., Cedar Rapids, Iowa, and Blacksburg, Va., NISC and its subsidiary employ more than 1,200 professionals between the four locations and remotely throughout the United States. Additional information about NISC can be found at www.nisc.coop.