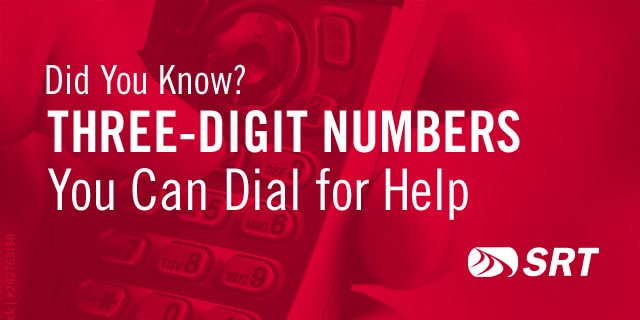 You may have seen announcements lately about a new change to "10-digit dialing" for some locations. What does that mean for you?
The Federal Communications Commission (FCC) recently shortened the National Suicide Prevention Lifeline to 988 so people can get help even more quickly. Because of this change, area codes that use "988" as their local exchange (and allow seven-digit dialing) will now require 10-digit dialing for all calls. Effective October 24, 2021, local calls for these area codes will need the three-digit area code plus the seven-digit phone number.
This change does not affect our customers. But it's a perfect time to remind you about the other resources you can access quickly, dialing only three digits.
Here are the three-digit numbers you can call in North Dakota when you need assistance:
211 – FirstLink Help Line. When you don't know where to turn, call 2-1-1. People often call the help line for basic needs like food, utilities, or health care, or assistance with rent or finding shelter, childcare, or domestic violence situations.
411 – Local Directory Assistance in the United States and Canada.
511 – Traveler Information System. For the latest road closures and delays due to accidents, weather, or construction, dial 5-1-1.
611 – Direct call to your telephone service if you need to report a problem.
811 – Call Before You Dig. Dial 8-1-1 a few days before any digging to avoid unintentionally hitting underground utility lines, and unintended consequences such as injuries, property damage, utility service outages, and potential fines and repair costs.
911 – Emergency Services
988 – National Suicide Prevention Lifeline
Call these three-digit numbers anytime for help!