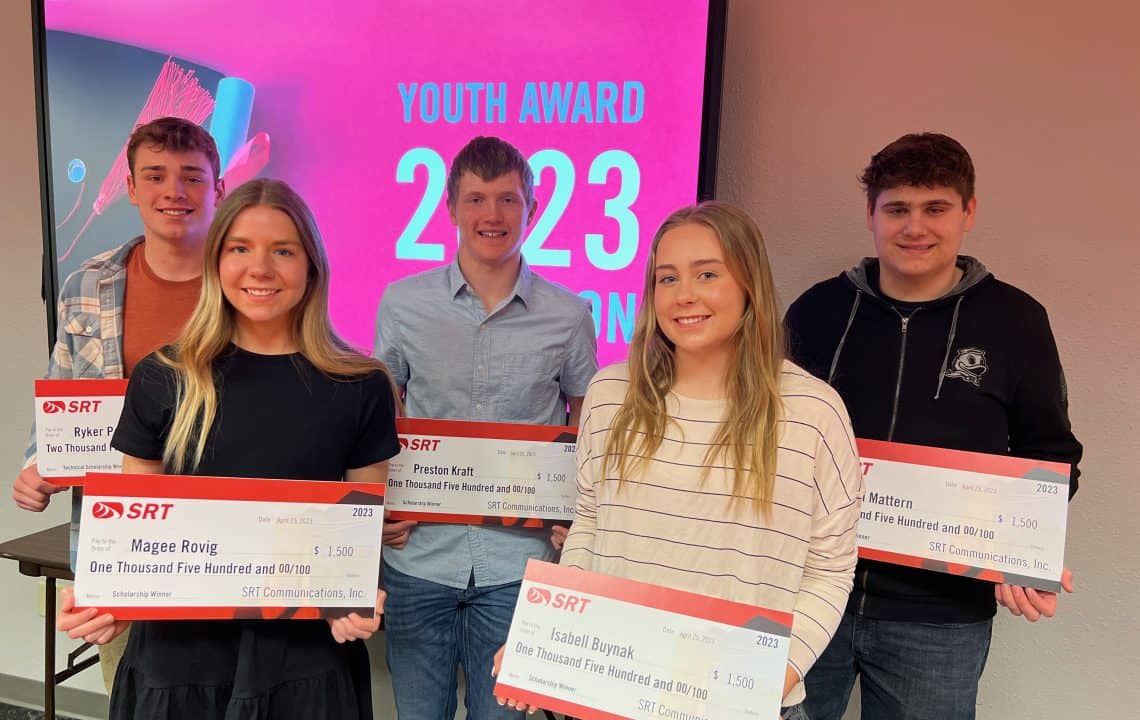 MINOT, N.D. – SRT is pleased to announce the 2023 winners of five college scholarships. Four winners were awarded the SRT Scholarship for $1,500 each and one winner was awarded the SRT $2,500 Technical Scholarship.
The $1,500 SRT Scholarship recipients are:
Isabell Buynak of Antler – MLS-Mohall High School
Magee Rovig of Minot – Bishop Ryan Catholic School
Preston Kraft of Velva – Velva High School
Javin Mattern of Mohall – MLS-Mohall High School
Ryker Pederson of Minot High School won the $2,500 SRT Technical Scholarship. He will be attending the University of North Dakota and will major in computer science.
"Every year, we look forward to rewarding area students for their hard work and their accomplishments, both in academics and in the community," said Cassidy Hjelmstad, SRT CEO/General Manager. "These scholarship winners have bright futures ahead of them and SRT is proud to support their goals."
Applicants for the SRT Scholarship Program were judged on their scholastic performance and achievements, as well as volunteerism and community involvement. Students were required to write an essay discussing how advancements in technology will change how students learn in the future.
The SRT Technical Scholarship can be awarded to a graduating high school senior or an undergraduate student currently enrolled in a two-year or four-year college.
Applicants were required to submit their volunteerism and community involvement, scholastic performance, and an essay describing how they can use their education and technology to reach rural and underserved populations. A letter of recommendation from a community member or educator was also required.
SRT Communications, headquartered in Minot, North Dakota, is the state's largest telecommunications cooperative. Established in 1951, SRT employs nearly 190 people and serves roughly 8,000 square miles and 24,000 customers across north central North Dakota. SRT earned the distinction as a Certified Gig-Capable Provider in 2017. Services include high-speed internet, phone, and security/surveillance systems for home and business.