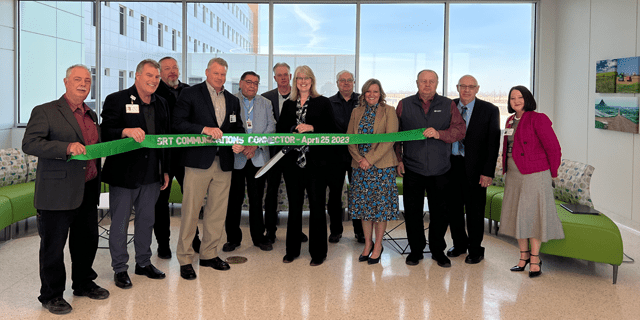 MINOT, N.D. – SRT joined Trinity Health, and Trinity Health Foundation, on April 25 at the new regional healthcare campus for a ribbon cutting ceremony honoring SRT's support. The ceremony took place on the third-floor connector, which is named after SRT.
Last summer SRT donated $500,000 to Trinity Health Foundation's Capital Campaign. In addition, SRT's fiber network forms the foundation of critical infrastructure for the new facility.
"We cannot meet the needs and expectations to make more possible for this community or the region-at-large without SRT," said John M. Kutch, President and CEO of Trinity Health, during the ceremony. "SRT has truly been bridging the digital divide in connecting rural communities throughout the region with high-speed fiber. And certainly in Trinity's case, those connections to and with our patients across the region are prevalent. Trinity Health is deeply grateful, not only for the partnership we have with SRT, but for the incredible philanthropic gift we have received."
After the ceremony, Trinity Health took SRT employees and board members on a tour of the hospital and the adjacent medical office building. The SRT Connector on the third floor bridges the women's and children's floor of the hospital with neonatology, ob/gyn, and other specialties in the medical office building. Seating in the SRT Connector offers patients and visitors a place to reflect, rest, and recharge.
"This area we are standing in will be integral to patient care," Jeffrey Verhey, MD, Chairman of the Trinity Health Foundation Board, said during the ribbon cutting ceremony. "We are grateful to SRT for their unrelenting support of Trinity Health and our mission."
Kristi Miller, SRT Board President, added, "The calming natural light and cheerful design of this corridor will provide an inviting care environment for so many families – at so many moments in their lives. SRT, as a community partner and high-tech provider, is proud to support the important work of Trinity Health."
SRT Communications, headquartered in Minot, North Dakota, is the state's largest telecommunications cooperative. Established in 1951, SRT employs nearly 190 people and serves roughly 8,000 square miles and 24,000 customers across north central North Dakota. SRT earned the distinction as a Certified Gig-Capable Provider in 2017. Services include high-speed internet, phone, and security/surveillance systems for home and business.

Trinity Health Foundation was established in 1922 to assist in the establishment of Trinity Hospital. Over the last 100 years, the foundation has been supported through the financial stewardship of individuals, families, foundations, corporations, civic clubs, and other organizations, with the purpose of significantly impacting healthcare and the quality of life in the region. Through generous donations, we are able to fulfill our mission of creating a system of care that provides the most significant impact on health and wellness throughout northwest North Dakota.