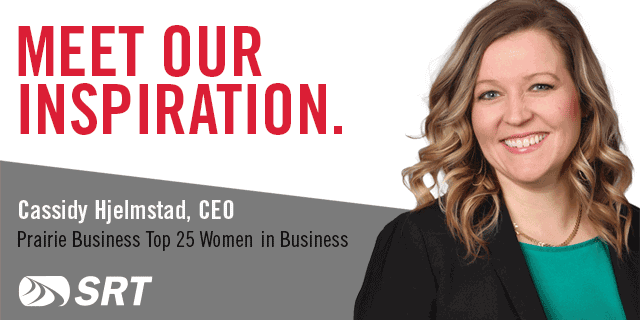 Cassidy Hjelmstad, CEO and General Manager of SRT, was named one of 2023's Top 25 Women in Business in Prairie Business magazine.
The 25 recipients were selected through a nomination process that emphasized professional achievement, community contributions and volunteerism.
As SRT's Chief Executive Officer since January 2022, Cassidy champions economic development for the region, digital inclusion and education for customers, advocacy for telecommunications at state and national levels, and financial stability for the health of the broadband cooperative and its employees and members.
While she served as Chief Marketing Officer, Cassidy successfully advanced SRT's business goals, built its brand, and positioned SRT for its next phase of broadband growth. Prior to joining SRT in 2010, Cassidy was Director of Community Relations for the Phoenix Suns. She earned a bachelor's degree in Mass Communications-Journalism, and Communications Studies from the University of Minnesota-Twin Cities.
Equally embracing servant leadership and cooperative principles, Cassidy's core values include accountability, integrity, humility, teamwork, relationships, and empowerment.
She is a Member of the NTCA Government Affairs Committee (NTCA-The Rural Broadband Association) and NTCA Smart Rural Community Advisory Committee; Board Chair-Elect of the Minot Area Chamber Economic Development Corporation; Board Vice Chair of Prairie Grit Adaptive Sports; an Honorary Commander with the Minot Air Force Base 91st Missile Wing; Chair of the Broadband Association of North Dakota (BAND) Marketing Committee, and Board Member of DCN and NISC. She and her husband, Travis, have three children.
Click here to read the full Top 25 Women in Business issue in Prairie Business.