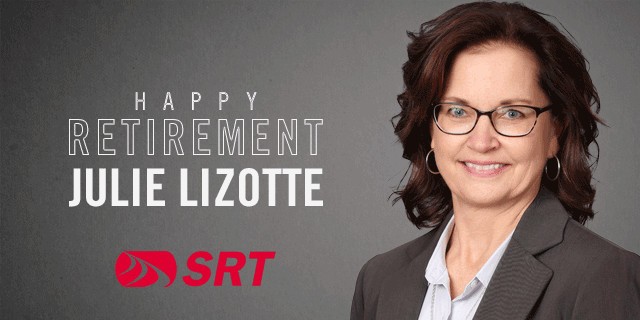 MINOT, N.D. – Julie Lizotte, Director of Regulatory Affairs at SRT Communications, retired March 1 after more than 34 years with the organization.
Lizotte joined SRT as an Accounting Clerk in 1989. She progressed to Carrier Services Specialist in 1996 and to Director of Regulatory Affairs in 2004 – the role she held until her retirement.
"Julie navigated every kind of regulatory change imaginable during her tenure with SRT. From voice to broadband regulations, she ensured SRT remained compliant in our business practices," said Cassidy Hjelmstad, SRT Chief Executive Officer and General Manager. "We appreciate her contribution to SRT and wish her the best in her retirement."
Lizotte previously served on the Minot Area Chamber EDC Board of Directors. She has also served as Chairperson of the City of Minot Housing Authority Committee since 2014.
Jesse Ketteman, Network Operations Engineer with SRT since 2005, has joined the Regulatory Affairs team as Regulatory Affairs Manager.
SRT Communications, headquartered in Minot, North Dakota, is the state's largest telecommunications cooperative. Established in 1951, SRT employs nearly 190 people and serves roughly 8,000 square miles and 24,000 customers across north central North Dakota. SRT earned the distinction as a Certified Gig-Capable Provider in 2017. Services include high-speed internet, phone, and security/surveillance systems for home and business.