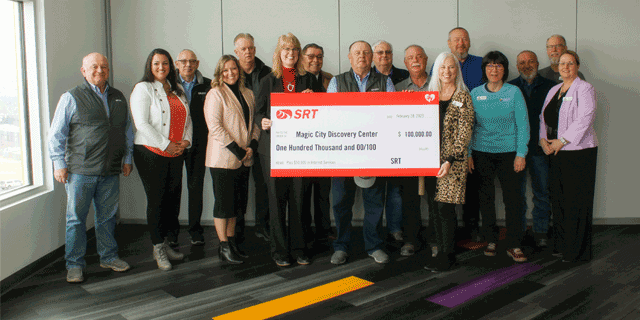 Minot, N.D. –SRT presented a ceremonial check to the Magic City Discovery Center in honor of its 2021 $100,000 pledge to the area's first discovery center.
SRT also designed and configured the building's Wi-Fi and Gig Internet network system to fit the Magic City Discovery Center's needs. Crews then installed several Wi-Fi access points. The in-kind labor, equipment, and maintenance work are valued at $50,000.
Karen Rasmusson, Board President for the Magic City Discovery Center, said, "We are so thankful for SRT's contribution! Our Community Rooms will be the location where kids can't wait to have their birthday party. Businesses and service clubs will look forward to special meetings with the best view in Minot and state-of-the-art technology."
The Magic City Discovery Center has been an engaging and educational piece of the community since 2014, teaching young people the fun possibilities of science, technology, engineering, arts, and math. The STEAM-focused education center has now planted its roots on Minot's North Hill, serving as a destination for play, learning, and inspiration.
"The Magic City Discovery Center is not only a great place for families to have fun," said SRT CEO/General Manager Cassidy Hjelmstad. "It's also an opportunity for kids to discover STEAM in a unique way. This beautiful science center stands as a testament to the importance of educational adventure."
Kristi Miller, SRT Board President, added, "SRT is proud to support STEAM education for the bright young minds in our region."
Construction on the brand-new facility began in May 2021. It features 12 galleries and more than 150 interactive exhibits, and is expected to open in the spring.
Incorporated as Children's Museum of Minot Inc., the Magic City Discovery Center, is a 501c(3) non-profit. It's committed to creating extraordinary learning experiences that have the power to transform the lives of children and families. The Magic City Discovery Center is a direct result of public-private partnerships with the City of Minot, Minot Park District, Office of Local Defense Community Cooperation – Department of Defense, the State of North Dakota, and numerous supporters from regional businesses, foundations, and individuals.
SRT Communications, headquartered in Minot, North Dakota, is the state's largest telecommunications cooperative. Established in 1951, SRT employs nearly 190 people and serves roughly 8,000 square miles and 24,000 customers across north central North Dakota. SRT earned the distinction as a Certified Gig-Capable Provider in 2017. Services include high-speed internet, phone, and security/surveillance systems for home and business.