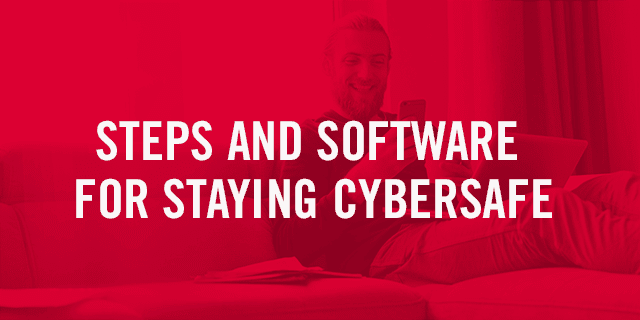 Technology makes our homes smarter and lives easier in so many ways. But it also brings the risk of cyberattacks. Good cybersecurity is just as important for families as it is for any business. We routinely use computers to shop online, pay bills, and access our personal accounts. Without effective safeguards in place, our personal information is vulnerable to hackers.
Cyberattacks take on many forms
Phishing is the easiest and most common way bad actors access your system. How? They send a seemingly trustworthy email to trick you into revealing private information, or to install malware on your computer. If you open the email and follow any instructions, you've unknowingly let them in.
Denial of service is a type of attack in which a hacker floods a device or server with requests until it becomes overwhelmed and can't function. Usually, hackers use malware to infect a device and bombard it with commands. 
Direct attacks, including brute force attacks, use persistence to directly target data. The attacker systematically checks all possible passwords and passphrases until the correct one is found.
Steps to avoid becoming a victim
Update your passwords. The best way to avoid a brute force attack is to make your passwords tough to guess and different from your passwords on other sites. The longer the password, the more combinations that will need to be tested. Implement multi-factor authentication for another layer of security.
Don't click on any links. If you receive an email or text from an unknown source asking you to click a link or download a file for more information, don't click. While you can hover over links and email addresses to see where they are really coming from, in most cases you'll want to just delete the message.
Install software that goes beyond antivirus. Because there are many tools used to carry out cyberattacks, your anti-hacker software shouldn't only cover viruses. Make sure you choose protection with several security layers to block all kinds of threats:

Viruses. Programs with malicious intents are characterized by the ability to multiply and infect other computers or devices. Viruses are usually tied to an executable file which, when you unknowingly run it, also acts as the trigger for the virus.
Trojans (Horses). Malicious software can masquerade as common software and trick you into downloading and running it on your computer. When you do that, trojans usually open the gate to other forms of malware on your computer.
Worms. These malicious programs take advantage of the security holes and vulnerabilities in your operating system or other software (like your web browser for instance) and use them to infect your computer. Unlike regular viruses, worms can multiply and spread by themselves, without you having to run an infected file.
Spyware. Designed to spy and gather intelligence about you, spyware tries to hide from your operating system. After collecting information about you, it tries to send it to hacker-controlled servers.
Rootkits. This malware is designed to give hackers remote access and control of a device, without being detected by the victims or the security software installed on the infected devices.
Ransomware. Once ransomware infects your computer, it takes control and encrypts your files such as your pictures, work documents, and videos. Once that happens, ransomware programs try to make you pay considerable amounts of money to their creators, so you can get your files back.
Adware. These software programs display advertisements on your screen, in your web browsers, or other places on your computer. Adware almost always hurts your computer's performance and your user experience. It can also help infect your computer with malware.
Network attacks. When hackers try to take control of your devices remotely, they can do that through a "break" approach. A good firewall must be able to deflect attacks from the outside but also tell you about suspicious traffic that is initiated from your computer to the outside world.
Web threats. Your web browser should be the first in the line of defense against malware to stop you from visiting websites with malicious content. It is better to deal with malware in your browser than to have to do that when it reaches your computer.
For more information on how to stay cybersafe, you can visit Cybersecurity | Ready.gov. We will also continue to share the latest tips and trustworthy resources, so visit us often.