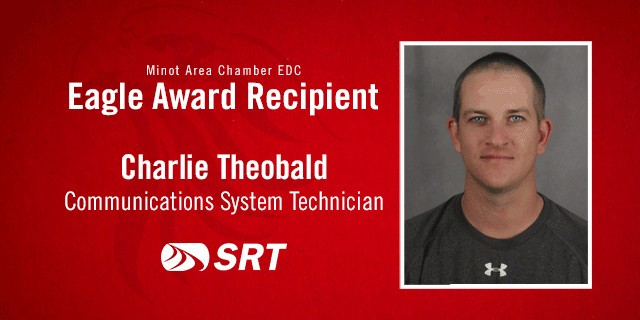 SRT Communications Systems Technician Charlie Theobald received
Minot Chamber EDC
's Eagle Award this month. The Eagle Award
recognizes excellence in customer service
 and the recipients must be nominated to receive this award.
Charlie was nominated by a SRT Business customer who said, "We were having issues with our phone lines and Xerox machine. We called our IT department, and they said it was on the SRT side. We called SRT they sent out a technician right away. Charlie introduced himself and troubleshooted everything he could, yet our phones were still not working. He spent over an hour with our IT department on the phone trying to solve our issues and nothing. Charlie did not give up. He was determined to find the problem. After running several diagnostic checks, he found that it was a booster in our conference room that had failed thus causing our entire phone system to shut down. It would have been so easy for Charlie to just say, 'this is not our problem,' and leave but he obviously cares about the task at hand. It is not very often that you run into someone like Charlie that will go above and beyond what is expected of them to see that the customer is taken care of, and everything is running properly prior to closing the call. Thank you, Charlie, we appreciate you!"
Congratulations Charlie for this well-deserved recognition, and thank you for taking great care of our customers!