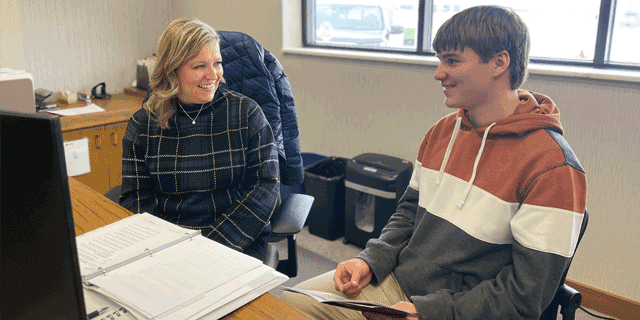 MINOT, ND – Brady Tofteland, a sophomore at Westhope Public School, spent the day outside of the classroom and inside the day-to-day of SRT Chief Executive Officer and General Manager Cassidy Hjelmstad.
Westhope students got the opportunity to job shadow area professionals of their choice thanks to the Choice Ready Grant provided by the North Dakota Department of Public Instruction. Tofteland chose Hjelmstad, a Newburg native.
"When you have the option to shadow a CEO at a large company, you don't turn it down," Tofteland said. While he has a couple of years before he graduates high school, he considers his interests in things like hunting and video games when it comes to thinking of future job opportunities. He has a piqued interest in wildlife biology, but also said he was excited to learn about what a CEO is, what the job entails, and what sort of preparation goes into reaching a position like that.
The day included a rundown of all things SRT, cooperative principles, a tour of office headquarters on North Broadway and the SRT Network Operations Center in downtown Minot, and a look at the many responsibilities of Cassidy Hjelmstad.