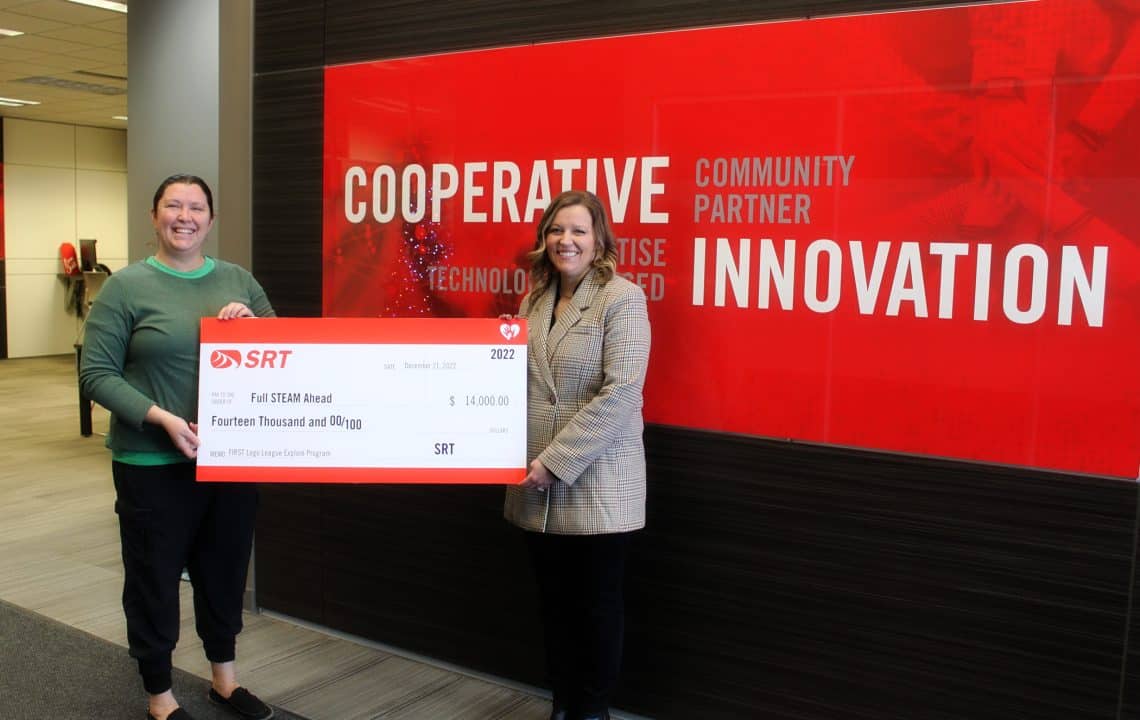 MINOT, N.D. – SRT recently presented a check totaling the company's support of Full STEAM Ahead's Lego League Explore program.
Since 2019, SRT has donated $14,000 to the program, opening the door for hundreds of kids ages 6-14 to participate for free.
FIRST® LEGO® League is a branch of an international program that encourages kids to develop an early interest in fields related to science and technology.
"It's been really great for the kids, working through new challenges by building and programming LEGOs. They really enjoy it, and the opportunity is available thanks to SRT," said Ali Auch, Full STEAM Ahead Executive Director and Founder.
STEAM Teams Powered by SRT learn through exploratory research, hands-on construction, and the use of LEGO elements. The students work together to bring these robotic models to life.
"SRT believes in technology's potential to improve life for people in our region," said Cassidy Hjelmstad, SRT Chief Executive Officer and General Manager. "When young students pursue knowledge in this discipline, they are on the way to an exciting future and a meaningful education. We see the importance of STEAM in our business daily, and we are proud to support this program for local kids."
Full STEAM Ahead is a nonprofit organization in Minot, ND that was formed in 2017. Full STEAM Ahead is an umbrella organization that helped meld youth with science, technology, engineering, arts, and math. 
SRT Communications, headquartered in Minot, North Dakota, is the state's largest telecommunications cooperative. Established in 1951, SRT employs nearly 190 people and serves roughly 8,000 square miles across north central North Dakota. SRT earned the distinction as a Certified Gig-Capable Provider in 2017. Services include internet, phone, and security/surveillance systems for home and business.