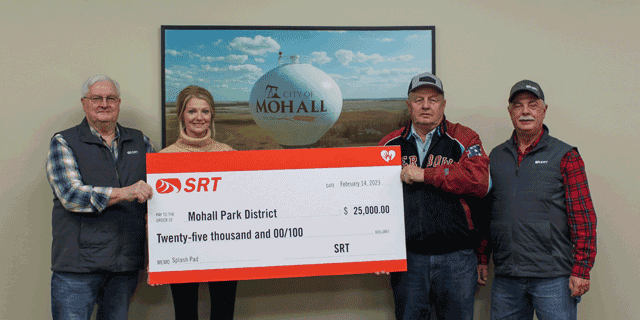 MINOT, N.D. – SRT presented $25,000 on February 14 to the Mohall Park District, supporting the city's capital campaign to replace Mohall's baby pool with a 1,900 square-foot Family Fun Splash Pad.
A popular attraction for residents of Mohall and surrounding communities, the baby pool fell into disrepair after years of use. The pool was removed in October 2022 to make way for the new splash pad.
"The baby pool provided entertainment for adults and children for decades. Our mission is to keep that entertainment alive for future generations," said Cheryl Overby, Mohall City Auditor. "The splash pad is a fresh take on our old pool that adds activities, a dynamic space for fun, and visual appeal to our park facilities. We appreciate SRT's investment in our park and our community," Overby said.
SRT's gift goes toward the splash pad's estimated $199,300 total cost. Site preparation such as water line installation and landscaping incur additional expenses. So far the Mohall Park District has raised $215,000 through a variety of community fundraisers and donations, which speaks to the local support for the project. The district expects to need $60,000 to finish future phases.
"Mohall is a valued community in our region where people can live, work, and raise their families," said Kristi Miller, SRT Board President. "Recreational amenities contribute to quality of life, and SRT is proud to support this splash pad that will bring enjoyment to area residents of all ages."
Splash pad construction is projected to begin in May 2023 on the site of the former baby pool. 
SRT Communications, headquartered in Minot, North Dakota, is the state's largest telecommunications cooperative. Established in 1951, SRT employs nearly 190 people and serves roughly 8,000 square miles across north central North Dakota. SRT earned the distinction as a Certified Gig-Capable Provider in 2017. Services include internet, phone, and security/surveillance systems for home and business.